Top 20 JAV Uncensored Porn Sites updated on March 21, 2023, by Japan Uncut.
The Best Japanese Uncensored Porn Sites
I'll share the 20 best JAV uncensored porn sites in this blog post with you. Japanese porn is often censored with mosaic pixelation, which Japanese law requires. However, many sites listed below are hosted outside of Japan; hence they can bypass their porn laws and offer 100% uncensored Japanese porn videos.
If you're interested in learning more about each site, you can click on a site name to visit the site or click to read the full detailed review.
So without further ado, here are the top 20 JAV uncensored porn sites with no censorship.
#1 – JAV HD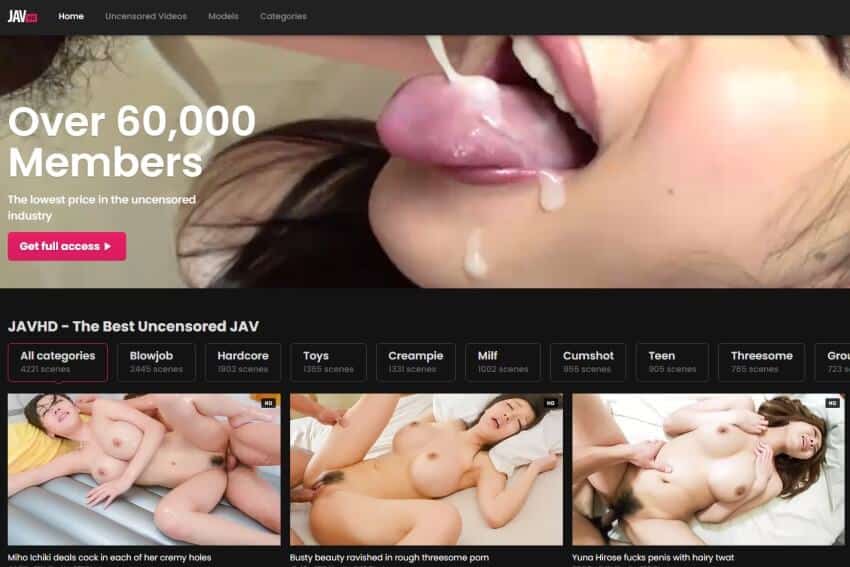 This is the global leader in JAV HD uncensored porn videos. It's also our highest-rated mega-site with over 4,227+ videos with no mosaic censorship. It scores high on all of our rating criteria and updates every day with exclusive new scenes in Full-HD. It's massive in size and crystal clear in quality, with options to stream online or download full-length scenes.
When you join JAVHD, you get an entire network of J-porn. There are 16+ sites in total, each offering a different Asian niche. Some bonus sites include AV Anal, Gang AV, Shiofuky, and Schoolgirls HD.
Because of the sheer volume of uncensored videos, the JAV HD site will cost you between $19.99 to $49.99 per month, depending on how many months you join. So although you get a great deal of Full-HD Jporn, it will cost you more than your typical porn paysite.
Please read our full JAV HD review, or visit JAVHD.com now for more details.
#2 – Japan HDV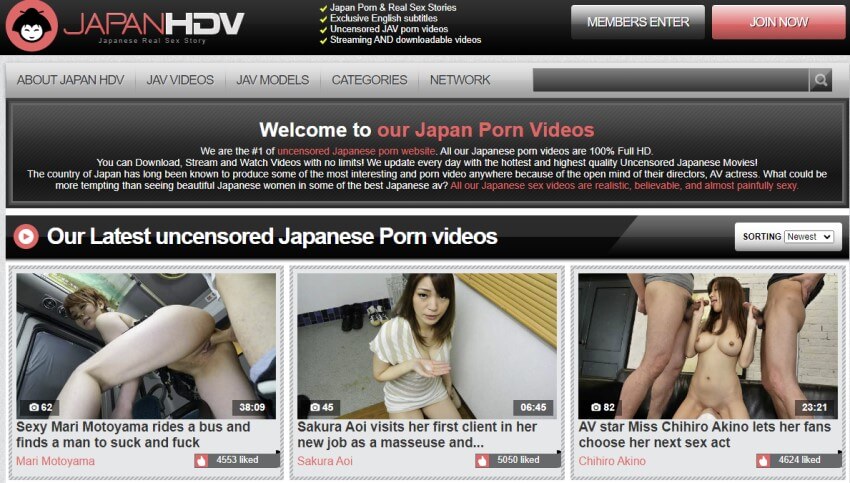 If you have watched Japanese porn and have been curious about what these innocent girls from Japan are saying, then Japan HDV might be your site. Here you get your Japanese porn with English subtitles. How awesome isn't that?
You get access to 1,500+ uncensored JAV videos in HD that you can download or stream, covering various Japanese porn categories like ass licking, blowjob, bondage, Bukkake, creampie, footjob, double penetration, outdoors, sex toys, and more.
And on top of the extensive collection of Japanese porn with English subtitles, you also get access to a network of porn sites like AV Idolz, Asian Bondage, JAV HQ, Brutal Asia, and a few more. So, a membership at Japan HDV will give you access to more than 2,000+ videos.
There are over 500+ AV stars, like the famous Ageha Kinoshita, Ai Uehara, Aiko Endou, Airi Tachibana, Akari Osaki, Kana Aizawa, etc.
I think the site is well priced with a monthly membership of $29.95 or SAVE 50% by paying $89.95 for a 6-months membership. The only thing I miss here is an annual membership.
If you're looking for an extensive collection of Japanese porn with English subtitles, Japan HDV (review) is the perfect website. Visit JapanHDV.com now.
#3 – Adult Time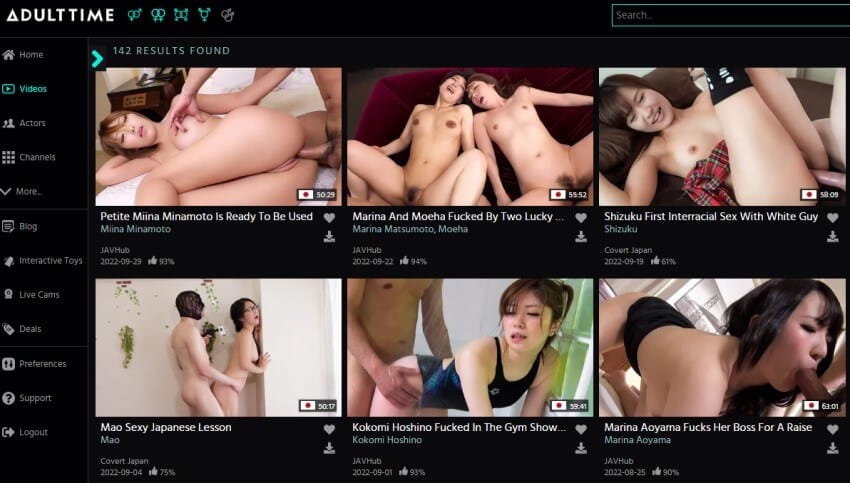 Adult Time is the leading subscription porn site on the net today, with 52,000+ videos and 250+ porn channels. With its massive collection of porn videos and series covering all the popular porn niches, they have added uncensored Japanese videos from JAV Hub, JAV Studios, Total Hentai, Pink Eiga, and Futa anime series.
The number of Japanese porn videos is still relatively low, with around 100+ titles, but they keep adding more and more content. You also find the popular anime porn series  Hentai Sex School here. So Adult Time is for you who want the ultimate porn site where you get access to the best videos in all niches for a very reasonable price of only $7.95/month (annual membership).
Learn more about this ultimate porn video site in our article – Adult Time JAV, or visit AdultTime.com now.
#4 – Caribbeancom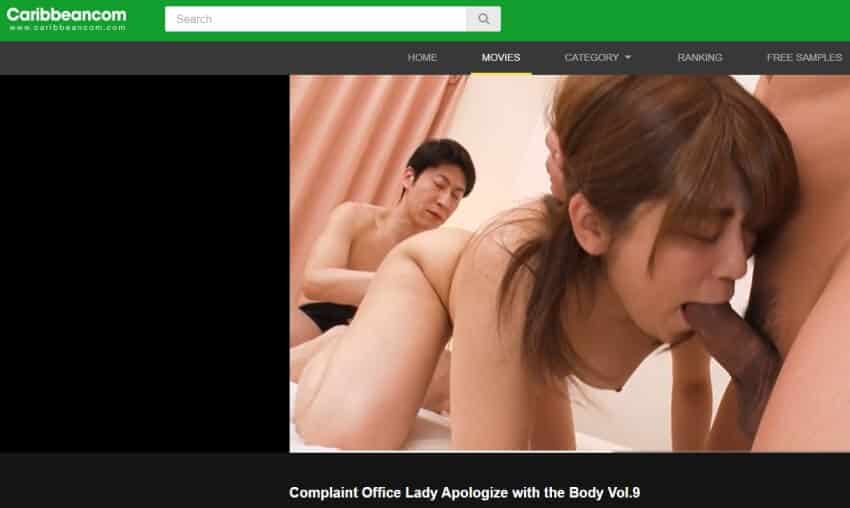 Caribbeancom is another premium JAV uncensored paysite with 4,202+ original scenes to stream or download. This site is an authentic Jporn collection with numerous categories and actress types to help you browse the site. The categories let you filter by AV Idol (3,657 scenes), Amateur (164 scenes), Debut (406 scenes), Big Tits (1,515 scenes), MILF (540 scenes), and many more. There's also a separate category for model types, including nurse, maid, school teaser, kimono, and more.
Currently, Chiaki Hidaka is the top-rated model weekly model as voted by site members, followed by Nana Ninomiya, Mirai Hanamori, and Sari Nakamura. Watermarks on most videos suggest that the collection comes from various networks and studios based in Japan. The site updates weekly, with approximately one new scene every second day.
My only complaint is the various membership plans which are expensive. The regular plan is $49.50 for 30 days but doesn't include the 'VIP Movies' or 'Super VIP Movies'. To view the VIP content, you must purchase either a 90-day or a 180-day Super VIP pass. There's also a 15-day streaming-only option for $15 if you want to test the waters before committing to a monthly pass.
For more details, visit our full review of Caribbeancom, or go to Caribbeancom now.
#5 – Sperm Mania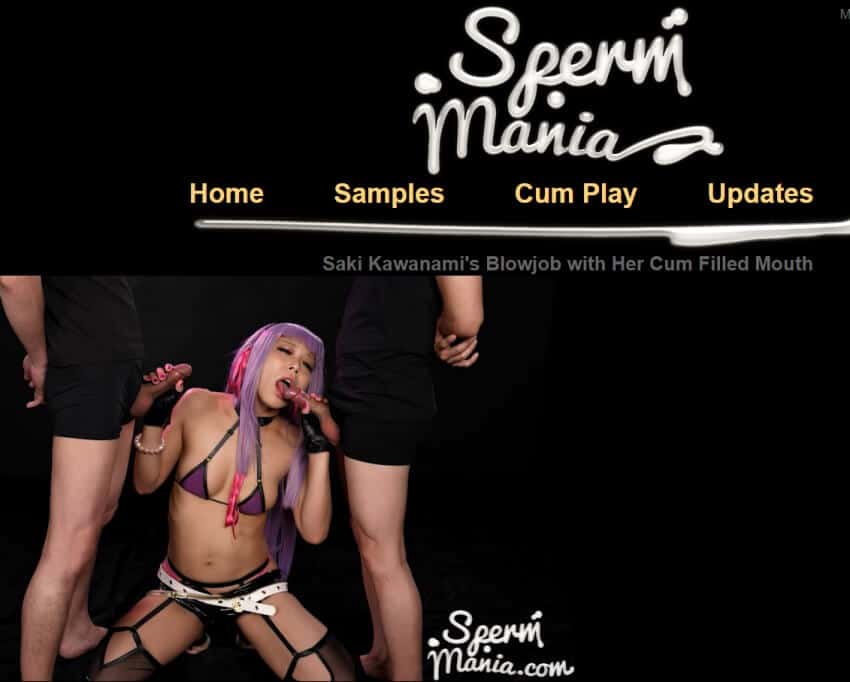 Sperm Mania is the perfect bukkake site. It's 100% uncensored bukkake porn videos filmed with Japan's youngest legal porn actresses. Every scene is filmed with a pitch-black background in superb Full-HD quality, so you can enjoy every nasty detail. The cum-dumpsters take multiple cumloads, sometimes by as many as a dozen men.
Sperm Mania isn't the first bukkake site reviewed here at Japan Uncut. For instance, you'll find Bukkake Now included in the All Japanese Pass network. However, these other sites are censored with mosaic pixelation covering the genitals, whereas Sperm Mania gives you uncensored action. This makes Sperm Mania a unique find in the Jporn niche.
In the end, it's the quality and quantity that matters most. And I'm glad to report that Sperm Mania (full review) scores high on both these criteria. There are 160+ original bukkake videos filmed in MP4 Full-HD 1080P. If you sign up for a three-month membership, the monthly price will be $26.65.
Visit SpermMania.com now and check out their free preview videos.
#6 – Cospuri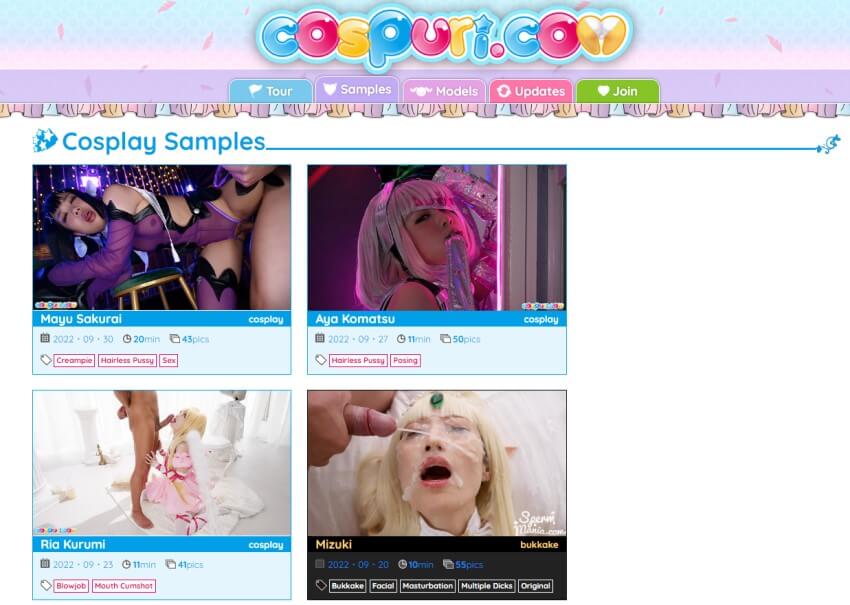 Are you looking for the best Japanese cosplay porn videos? Then you must check out, Cospuri. They have put in a lot of work to create some of the best cosplay porn videos, with 186+ high-quality 4K resolution scenes.
We often see in cosplay videos that they have not put in the effort to create high-quality content. On top of the high-quality video resolution, they have also put in the time to make authentic cosplay costumes. This is the site the go-to when it comes to watching young-looking girls dressed up in various costumes.
The price starts from $15.00/month. Learn more about the site in our full Cospuri review, or visit Cospuri.com now.
#7 – Legs Japan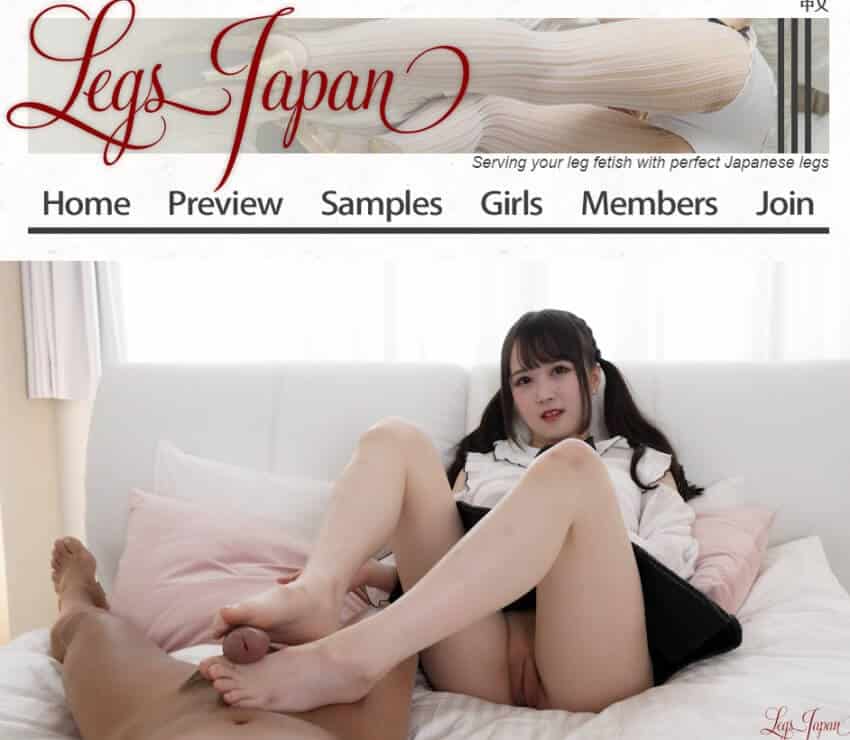 Legs Japan combines two of my favorite porn niches: Japanese porn and foot fetishes. Legs Japan is probably the best-looking Japanese foot and leg fetish site you'll ever find. Every scene is shot with attention to the most minute details with a clean white background emphasizing the beauty of the lovely JAV girls. You'll love every minute of this site if you like dominant foot jobs by hot Asian girls in high heels, stockings, and short skirts.
Since I first reviewed Legs Japan, the site has grown considerably in content. As I write this review, I counted 480+ videos with every video in Full-HD 1920x1080P. There is no pixelation on any scenes, and the site updates every week with new photos and video sets. The images are offered in high-res sets that you can download in Zip files. The high res photo provides sharp and clear images in 5760×3840 resolution.
Legs Japan (review) is your go-to place to satisfy your cravings for Japanese legs and footjob porn. It's also reasonably priced, considering both the quality and quantity of content. Visit LegsJapan.com now.
#8 – AV Anal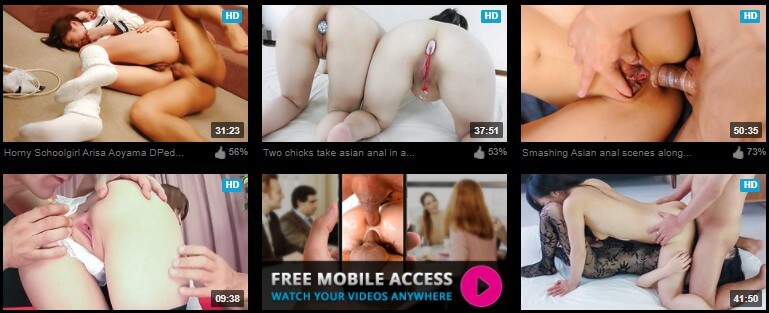 AV Anal fills a much-needed niche in Japanese porn. This JAV uncensored porn site is home to 70+ uncensored anal sex scenes starring the hottest Japanese pornstars. It's a full-HD experience with content from various network sites inside the JAVHD (review) members area.
AV Anal claims to be the world's best Japanese anal site, and I'm inclined to agree based on the quality of the videos. You can stream or download the full scenes in MP4 1080P. Including the bonus sites, you'll find a total of 897 models coming from 16+ niche sites with over 3.95 Tb of archived videos. In other words, you get a lot of uncensored Jporn.
As for the Asian anal sex movies, you'll find bareback and hardcore scenes filmed with condoms. You can view the anal pornstars by viewing the 'Models' drop-down menu on the top, which lists Nanao Matsuyama, Madoka Anyukawa, and Ai Muzushima as the top-rated pornstars of 2019.
Please read our full AV Anal review or more details, or visit AVAnal.com now.
#9 – Tokyo Face Fuck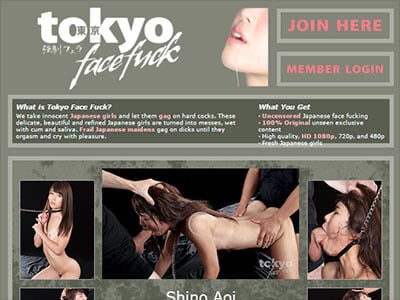 Imagine a hot Japanese girl on her knees worshiping your cock. Imagine forcefully ramming your cock down her throat as she gags on your dick. This is the premise of Tokyo Face Fuck. It's a 100% original collection of uncensored videos in the blow-job niche. It's a moderate-size collection of only 60+ scenes, but every scene follows a consistent formula of what can only be described as the best Japanese deep-throat porn.
Tokyo Face Fuck lets you download or stream videos online in HD 1080P, 720P, and 480P. The uncensored Japanese face fucking scenes are updated every week, so the collection will continue to grow with time. Also worth mentioning is that the male performer is always a Western guy, and the videos are often filmed in POV.
If you're looking for uncensored throat fucking action, check out the girls at Tokyo Face Fuck (review) or visit TokyoFaceFuck.com now.
#10 – Gang AV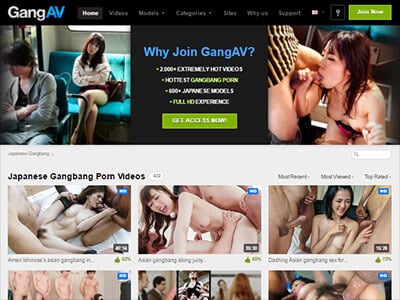 Gang AV is home to Japanese group sex and hardcore gang bangs. It's a rare collection of 423+ videos of Japanese teens getting gangbanged by horny Japanese dudes. Every scene is shot in Full-HD, and you get unlimited access to a network of bonus sites.
As part of the JAV HD network, you'll appreciate Ferame (Japanese blowjobs), Amateur AV (first-time porn actresses), and POV AV (Japanese POV videos). You can browse the bonus scenes by visiting the 'Sites' drop-down menu from the top. The network updates multiple times per week, which seems to be the case for Gang AV, with 4 new scenes added in the last month.
Gang AV is as much a group sex site as a gangbang site, so if you enjoy watching many pornstars in the same scene, you'll want to look at our full Gang AV review. It's pricey since it includes JAV HD, but in this case, you get what you pay for with a massive network of 4000+ uncensored movies. Visit GangAV.com now.
#11 – Fellatio Japan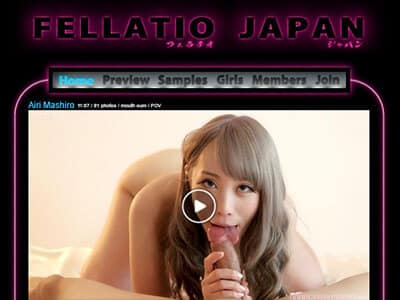 Fellatio Japan is from the same company as Tokyo Face Fuck but with its exclusive content. This modern porn paysite gives you the freshest blowjob babes with no censorship. So if you enjoy POV blowjobs from young-looking legal actresses, you'll appreciate this unique Jporn collection.
The first scene I watched featured the beautiful Shino Aoi in a close-up blowjob tease. She skillfully sucks his big white cock while fondling his balls in a close-up scene that will blow your mind. Another scene featuring Ayumi Kuroki and Kotomi Shinosaki is a double blowjob scene where one girl is lying on her back as the male fucks her mouth while getting his dick sucked by the other girl. If you've ever fantasized about two sexy J-girls making out while pleasuring your cock, you'll want to check out this scene.
Fellatio Japan (review) is an excellent paysite and is our highest-rated blowjob site. You'll want to consider a membership pass if you prefer hot Japanese girls sucking hard cock. Visit FellatioJapan.com now.
#12 – JVR Porn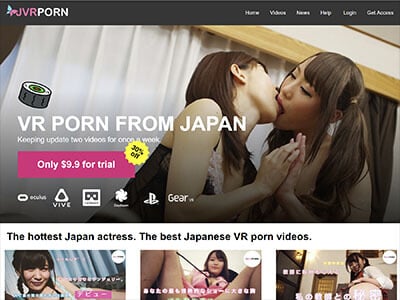 JVR Porn is our #1 rated Japanese VR site. It has 85+ original scenes in an immersive and uncensored 3D experience. The site promises the best in Japanese VR, and I agree with what I've sampled so far. The scenes are filmed at 90 fps with formats compatible with Samsung Gear VR, Google Cardboard, PlayStation VR, Oculus Rift, HTC Vive, and Daydream.
If you've never experienced VR porn, then there are not many sites I would recommend joining before JVR Porn. This is the highest-quality uncensored Japanese VR site, and it continues to update weekly without fail.
The scenes last between 10 and 30 minutes, depending on the scene. You'll find many of the most sought-after pornstars from Japan, including Umi Hirose, Kanako Sakuragawa, and Aoi Shino. Membership costs $29.99 monthly, but a $10 trial will give you 3 full downloads.
Learn more about the site in our full review of JVR Porn, or visit JVRPorn.com now.
#13 – TGirl Japan Hardcore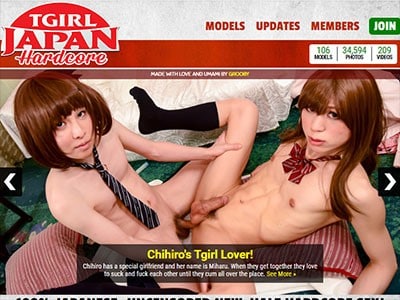 TGirl Japan Hardcore is the only uncensored hardcore new-half membership site. This original collection from Grooby Productions gives you male-on-shemale and shemale-on-shemale hardcore videos with an exclusive roster of hot Japanese new-half models.
TGirl Japan Hardcore is the companion site to TGirl Japan (review), the original new half site. However, TGirl Japan Hardcore is unique because all the scenes are hardcore, whereas TGirl Japan is mainly solo masturbation. The hardcore site provides 210+ videos, 34,738 photos, and 106 models.
If you're curious about transgender Japanese porn and like it hardcore, I recommend you look at our full TGirl Japan Hardcore Review. The site updates every week, and there are always fresh new models you won't find on other trans porn mega-sites.
Visit TGirlJapanHardcore.com now.
#14 – Ura Lesbian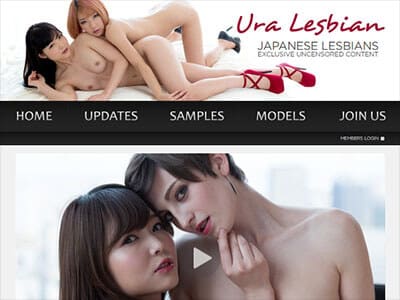 I'm not sure what "Ura" means, but I can tell you that Ura Lesbian is a high-end lesbian JAV site with high production values. It's an exclusive collection of the hottest Japanese lesbians and includes several non-Japanese performers.
Ura Lesbian was created by Digital J Media, the same company that created Tokyo Face Fuck, Handjob Japan, and Sperm Mania. You get the same high-quality porn that made those other sites successful, with every scene shot in its original uncensored version. The babes lick pussy, dildo each other, and have some hot sex filmed in perfect quality Full-HD 1080P.
For browsing content, you can click through page after page on the 'UPDATES' page, or you can use the 'MODELS' page to view images of the pornstars with links to each of their scenes. There are no bonus scenes, but a new scene is added weekly. In total, there are 140+ videos and 170+ photosets.
Read the full Ura Lesbian review to learn more about the site, or visit UraLesbian.com now.
#15 – Japan Hardcore Movies

Japan Hardcore Movies was one of the first sites I reviewed. Back then, it was much harder to come across uncensored JAV sites, but unfortunately, I found a couple of issues with this site that made me question whether or not it's worth joining.
Since I first reviewed Japan Hardcore Movies, the site has removed much of its content. There are now only 84+ exclusive hardcore sex scenes with no mosaic censorship. The last update was in September 2015, and there's been nothing new added since then.
However, there is a way you can get a 2-for-1 deal. If you join JAV Cube instead, you'll get full access to Japan Hardcore Movies (full review) and JAV Model (full review). JAV Model comprises both censored and uncensored content. But when you add the number of videos on each site, you end up with 6791+ scenes for a standard monthly price of only $33.95/month.
Visit JapanHardcoreMovies.com now.
#16 – Schoolgirls HD

This is a top-ranked Japanese schoolgirls porn site that gives you the youngest legal cosplay pornstars dressed up in innocent schoolgirl uniforms. These sweethearts may look innocent, but these naughty babes know a thing about pleasing a man.
Schoolgirls HD is a non-exclusive collection of 111+ scenes featuring horny schoolgirls and college students. You can view the scenes online or download them in Full-HD. The scenes appear to be from various studios, and to my knowledge, none of the scenes are exclusive. Also worth noting is that there haven't been any new updates in the last two months.
You get full access to the JAV HD (review) network. And if you join JAVHD.com instead, you'll get a better price offer of $39.99/month instead of $49.99/month but with the same amount of content.
Visit SchoolgirlsHD.com now.
#17 – Ferame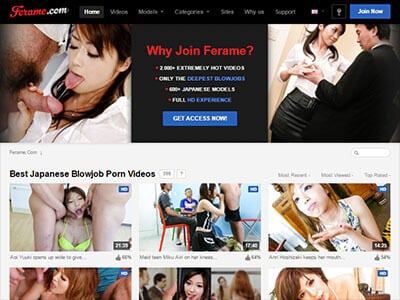 Ferame is a 100% uncensored Japanese blowjob site. The site promises only the deepest blowjobs, with over 2,000 porn videos to download or stream. You can browse the latest updates for local niche-specific content or use the Categories, Sites, and Models pages.
Although Ferame promises Full-HD content for all their videos, they don't always look that sharp. I wouldn't say the videos are blurry, but they're not as crisp and clear as Tokyo Face Fuck or Sperm Mania. However, Ferame updates more often than these sites, and you'll find a much better variety of scenarios since content comes from various studios.
Overall, Ferame (review) is a good but not an excellent site. But with the JAV HD network of bonus sites, at least you can trust that you're getting great variety.
Visit Ferame.com now.
#18 – Handjob Japan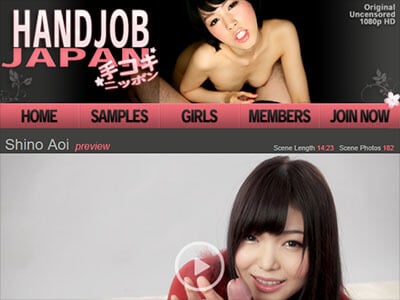 Handjob Japan is an uncensored paysite in the POV niche where sexy Japanese models give skillful handjobs. The scenes feature 1 or 2 models stroking cock while interacting with the cameraman. It creates a genuinely immersive POV experience that makes you feel like the J-girl is talking directly to you.
There's not much talking in the scenes since most communication is done non-verbally. The girls usually kneel between the guy's legs while worshipping his cock. A few models give blowjobs as well, but it's mostly a handjob specialty site. So if that's your thing, you'll want to look at this site.
Handjob Japan (full review) doesn't update as often as other company sites. Only a few new videos have been added in the last few months. But over the years, the site has accumulated an impressive selection of 240+ uncensored handjobs. Every footage looks crisp and clear with Full-HD formats to download or stream.
Visit HandjobJapan.com now.
#19 – Heyzo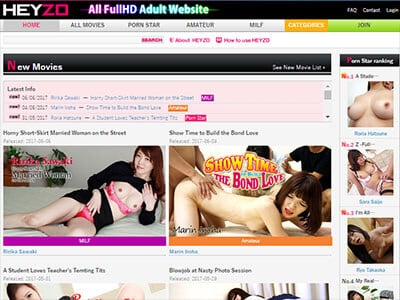 Heyzo is an original Japanese paysite focusing on three main categories: Amateur, MILF, and Pornstars. There are currently 316+ uncensored videos inside the Heyzo member's area, with 3-6 new movies added weekly. The best quality is 1920×1080 resolution offering superb and lifelike video quality. Although you may have never heard of Heyzo before, it can compete with the best in quality and user experience.
I found no issues getting the videos to play, and the streaming videos provide excellent-quality playback in Full-HD. The first video I watched, titled Multiple Orgasms and Squirts, features Chie Aoi in a wild screaming orgasm video. She gets fingered and dildoed to climax while relaxing on her back. Another scene titled Beautiful Girl's After School Life is a schoolgirl fetish scene featuring the young and talented Misa Makise. She gets stripped of her schoolgirl uniform before getting her pussy licked and fingered until she orgasms.
Overall, Heyzo (review) is an excellent membership site, but it will cost you $48 for a 30-day membership.
Visit Heyzo.com now.
#20 – JAV Cube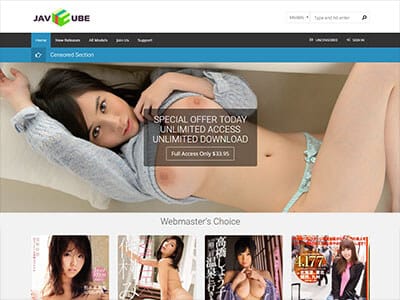 Although JAV Cube appears last on this list, don't assume you're getting crappy quality videos. I only put this site at the bottom of the list because most videos are censored. However, there's also a separate uncensored section which, in my opinion, is worth the membership price alone.
There are 391 uncensored JAV videos to download or stream with bitrates up to 2000 kbps. The MP4s look excellent at 1280×720 HD quality, and the design is modern and clutter-free. I love this fast-loading interface, and there are always fresh new scenes. There are over 1,000 JAV models, and if you're familiar with the niche, then you'll find many, if not all, of your favorites.
However, if you don't mind censored Jporn videos, you'll also be glad to find 12,740+ full-length DVDs in their original Japanese formats! Each full-length DVD clocks in at over 2 hours long, so this is one helluva mega-site to get your Japanese porn fix.
Get the inside scoop with our full JAV Cube review.
Visit JAVCube.con now.
Japanese Uncensored Porn Sites Summary
With 20 uncensored JAV sites, knowing which one to join can be hard. If you are looking for videos in a certain Japanese porn niche, it's best to go with a niche. Let's say you are into Cosplay and only looking for the best content in that category. Then you will be best off joining a site like Cospuri.com, which delivers fewer videos but focuses only on Cosplay.
Most of our visitors choose to join Japanese porn sites that are less niche specific with a wide variety of uncensored Japanese porn videos. Looking at our traffic, three sites stand out among our visitors, and those are the three top sites at the beginning of this article.
JAVHD.com is the number of pick with 4,200+ uncensored videos covering all Japanese porn categories. Signing up for an annual membership will cost you $19.99 per month.
JapanHDV.com is a site that has grown in popularity in recent years. With 1,500+ videos, it's smaller compared to JAVHD, but on the plus side, their videos come with English subtitles. There is no annual membership, so the lowest price is the six months membership for $14.99 per month. They also offer modern payment options like PayPal and Bitcoin.
AdultTime.com is by far the smallest site of the three if looking at the Japanese content. But it's the largest porn subscription site with 52,000+ videos sorted by 250+ porn channels. The Adult Time JAV section is growing with several Japanese porn channels, and so far, there are 100+ videos in the JAV category. If you are looking for a premium site to join that covers all porn categories, then Adult Time is a great option. Annual membership costs $7.95 per month, making it the cheapest site.
More Uncensored J-Porn
If you're still looking for uncensored J-porn, I recommend you visit our latest uncensored J-Porn reviews with honest and in-depth reviews of 62+ uncensored JAV sites.
Recommended Reading For You