1Pondo Review updated on September 5, 2022, by Japan Uncut.
Introduction
I don't know what the word "1Pondo" means in Japanese, but by looking at the video selection, as you can see below. I'm guessing it has something to do with "high quality" or "high definition."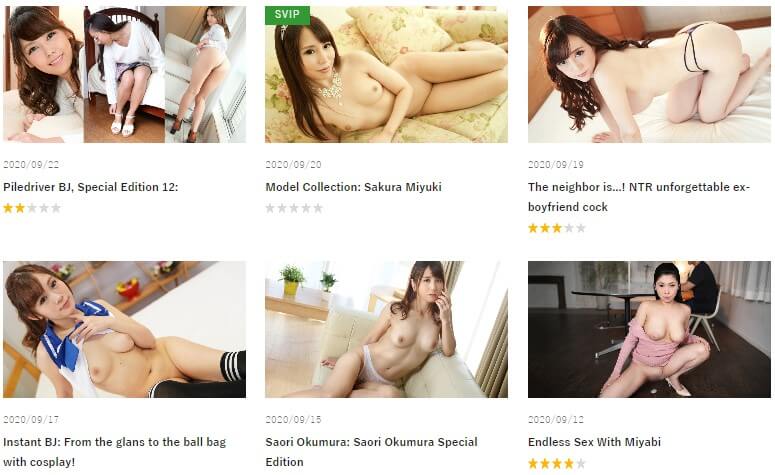 1Pondo claims to be the largest premium HD Japanese porn site. I'm usually skeptical of claims like these, but after taking a serious look at this site, I have to admit that I was impressed.
The site promises big-screen high-def, the highest bit-rate, and the fastest download speeds. Let's look inside this JAV 1Pondo site to find out!
Impression
The design is somewhat intimidating, with various links, pictures, and Japanese text.
Let's begin with the side menu bar. Clicking on the 'All Movie Search' page shows 3460+ exclusive 1Pondo movies. Further down, you have links to Free Sample Movies, Categories, AV Stars, Series, Super VIP Movies, etc.
Watch Free 1Pondo Sample Movies
I recommend you start by clicking on the Free Movies link on the left of the homepage.
The 20+ free sample movies will give you a feeling of the quality you can expect from the 1Pondo videos.
Search for movies and Japanese porn categories
Instead of sorting the movies by screenshots like most porn sites, they've displayed the content by model pictures instead. Clicking on any AV model images will display a profile picture and a list of the other movies they're featured in.
The main menu lets you quickly browse the latest updates by general categories. Right now, there are 98+ movies for "Gravure Idol Collection," 118+ movies for "Princess," 906+ movies for "Highvision," and 466+ movies for "Original Drama." Suffice it to say, you won't be running out of J-porn anytime soon.
An important thing to know about the site is that it's not mobile-friendly, so 1Pondo is for you guys that prefer entering a site from your desktop or laptop.
1Pondo Movies
Just as impressive as the selection of 3460+ movies is the quality. As promised, fans of J-porn will be thrilled that the site offers Full-HD and the highest bit frames per second.
Movies come with a High-Quality Download Sample, so you can sample the video quality before signing up.
Download links are provided in MP4 and Windows Media (WMV). On the main download page, you have additional options, including formats compatible with mobile devices:
1080 Full HD Movies (4000 kbps)
720 HD (1250 kbps)
480p (900 kbps)
360p (400 kbps)
240p (300 kbps)
VIP & Super VIP Movies
Members that sign up for 3 months or more get access to the different VIP sections, which gives you even more video content. In the VIP section, you'll get another 272+ JAV movies; for the members that sign up for a 6-month membership, there's even more in the SUPER VIP section with 501+ extra movies.
So you'll want to consider which membership you want to sign up for, and also, the price goes down if you sign up for a more extended membership.
Porn Categories
The exhaustive list of categories, niches, fetishes, actress types, and original series is on the left. The design is somewhat cluttered, but it's easy to find niche-specific content if you know where to look.
Using the left sidebar, I decided to filter by "female ejaculation," which gave me a search result of 530 ejaculation movies! Many DVD covers display a "FULL HD 1920×1080" logo if you're looking for high-definition movies.
There are too many categories to name them all. Still, you'll find hard-to-find niches, including celebrity look-alikes, cum inside, outdoor fuck, shaved pussy, tall girls, shemale, peeing, gagging, cosplay, cunnilingus, car sex, bareback, dirty talk, and bathing suits, with over 100+ movies in many of the categories. I mentioned there was a lot of content, didn't I?
JAV Pornstars
All the pornstars are sorted by name, so if you have the name of a favorite JAV model, you can quickly see if she is on the site. I could not count how many models they have on the site, but I can tell you there are thousands of pornstars here. You can click on each girl to see all the movies she stars in.
In the category section, you can also sort the models by actress types like tall, slut, slender, shemale, Milf, Teen, paipan, big tits, small tits, gal, and more.
Price
Because of the high-quality video and ultra-fast download speeds, 1Pondo.tv comes at a relatively high price tag.
A 30-day pass will set you back $55, which is higher than the average Japanese paysite. But they also offer a streaming-only membership for only $10.00 for 15 days, which is a pretty good deal.
There's also a download limit and access to VIP content which depends on the membership plan you choose:
Streaming Only – 15 days $15.00
– Streaming of regular movies only
Regular Members – 30 Days for $65
– Unlimited Streaming
–  4 Movies Daily Download Limit
–  All Regular Movies
– 5% Off on PPV
VIP Member – 90 Days for $170
– Unlimited Streaming
– 5 Movies Daily Download Limit
– All Regular movies
– VIP Movies
– 5% Off on PPV
Super VIP Member – 180 Days for $320 
– Unlimited Streaming
– 6 Movies Daily Download Limit
– VIP Movies
– Super VIP Movies
– 10% Off on PPV
Purchase extra download plans
You also can buy extra download plans, ranging from 30-300 movies per month, and it will cost you $15-35 extra on top of your membership plan. There is also an option to purchase a 30 days high-speed plan for another $5.00. This will give you a faster downloading speed.
Conclusion
1Pondo will mainly appeal to the serious premium Japanese AV porn collector who's only interested in 100% top-quality Japanese sex videos.
On the one hand, you get top-notch JAV porn and high-speed downloads in an all-exclusive site. Therefore, the JAV 1Pondo content is better than most other site premium sites offer.
Having said that, the $65/month membership will scare off casual viewers of Japanese AV porn. But if you are a serious collector and can afford it, you wwon'tregret joining this site.
Recommended Reading For You