Top amateur Japanese porn sites list updated July 15, 2023, by Riku.
The 6 Best Japanese Amateur Porn Sites
In this blog post, I wanted to give you the top Japanese amateur sex membership sites. These sites offer genuine amateur content with real-life emotions and expressions.
To learn more about each site, click the links to read the full review.
#1 – Amateur AV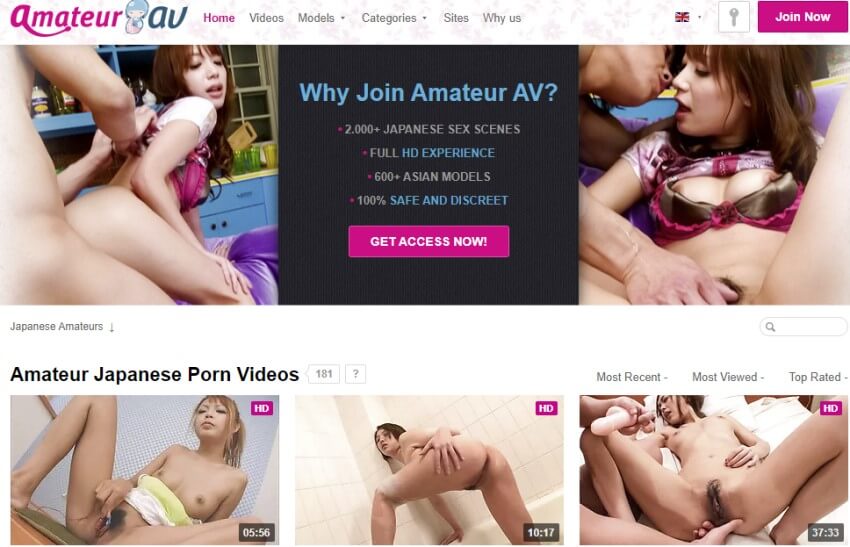 Amateur AV (review) delivers uncensored amateur JAV porn in HD and has a satisfactory selection of 180+ Japanese amateur videos. The site is part of the largest premium uncensored Japanese porn network, JAVDH (review). So a membership here gives you access to 4,000+ uncensored videos.
All videos can be downloaded or streamed from the site; this is a modern platform with pornstar profiles and uploaded content from amateur creators.
Amateurav.com is a top premium amateur Japanese porn site, and with the included JAV HD network you get the best collection of uncensored Japanese porn.
#2 – Tenshigao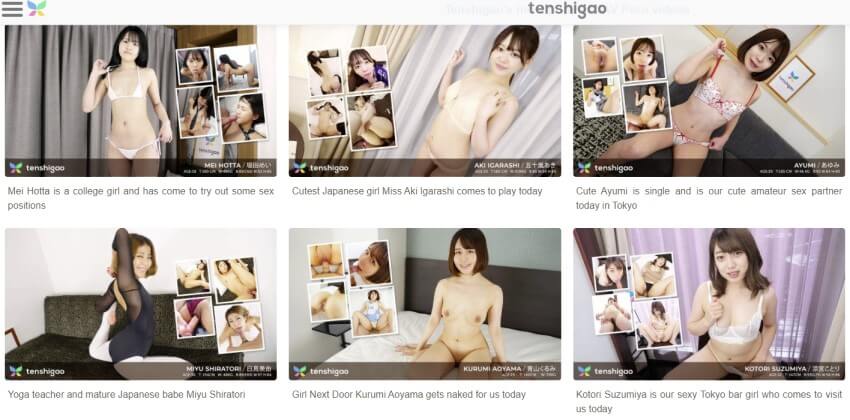 Tenshigao (full review) is a fresh new take on the amateur Jporn niche. Coming from the same company that created Japan HDV (review), you know the quality will be good. Incidentally, that site is included as a free bonus site.
As I write this review, there are currently only 15 scenes if you don't include the bonus content. And while you may write this one off as just another amateur site, the quality is exceptional.
It's got a unique concept for an amateur site. The staff posted job advertisements throughout Japan looking for "young ladies who are horny and lonely." But there are more Milfs here than teens, probably bored housewives looking to spice up their life.
Ultimately, you end up with a small collection of amateur scenes, but that number changes quickly with weekly updates. Also, when you factor in the Japan HDV network, you end up with over 1500+ uncensored Japanese porn videos.
With 4K downloads and fast-streaming video options, I've deemed Tenshigao.com to be one of the amateur Asian sites.
#3 – H4610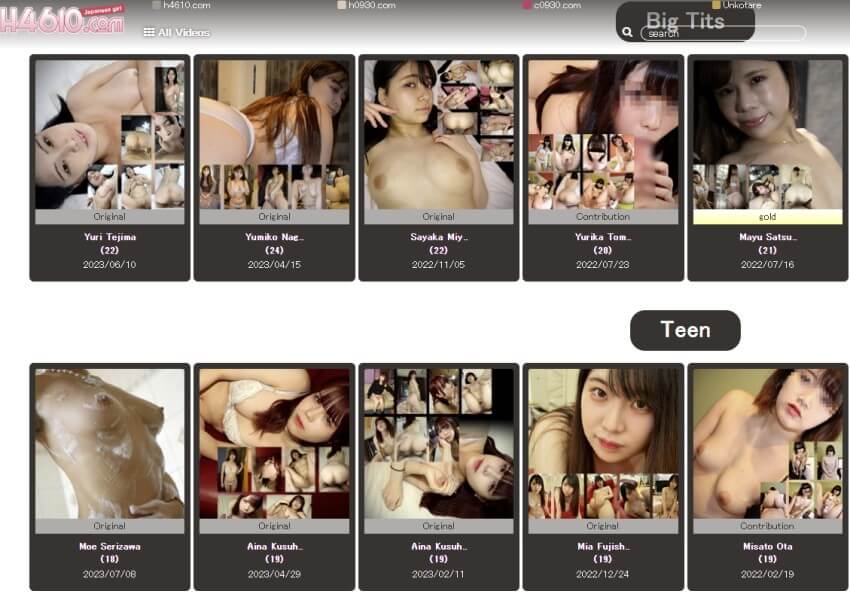 H4610 (full review) is a premier adult membership site offering uncensored Japanese amateur porn videos. Working as a porn reviewer, I've seen hundreds of Japanese porn sites, including a fair selection of amateur xxx sites. But I've deemed H4610 to be the most authentic amateur site reviewed here at Japan Cam Whore.
There are two main reasons why I've ranked this site #1. First is the video quality. The latest updates are in Full-HD, which you can download or stream online on the embedded video player. Originally they used to split the movies into different parts so that it was faster to download each section. But they've since added full-length download versions, which is a huge plus in my books.
The second reason I recommend this site is the selection of videos. Right now, there are 1589+ original scenes. Sometimes the faces are blurred out to protect the privacy of the Japanese amateur girls, but other times, it's uncensored. Considering the sheer volume of titles, navigating your way around the exclusive content is easy. You can select one of 24 different categories to update the video list.
If that's not enough, you also get two bonus sites focusing on amateur MILFs and housewives. Namely, C0930 and H0930 are similar in name but completely different in content. Adding up all the videos together gives you 4543+ movies making it the largest Japanese amateur porn site on the net.
The only downside to H4610.com (visit site) is the expensive monthly memberships which start at $48 per month. But in this case, you do get what you pay for.
#4 – Heyzo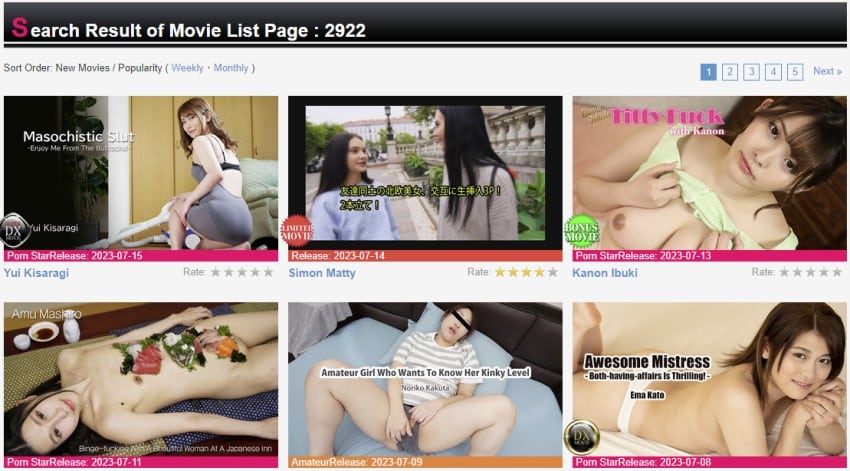 Heyzo (full review) is a 100% original collection of Full-HD movies in 3 main categories: porn stars, MILFs, and amateurs. The video quality on this site is better than H4610, but the selection of videos isn't as good. You still get an impressive selection of 2004+ videos, and the site continues to update with its brand of unique Jporn. Of the 2004 videos, you'll find 345+ scenes devoted to amateur girls.
Heyzo is best suited for those who prefer uncensored videos in high-quality video. While watching online, you can easily skip to different parts of the scene with fast-loading feeds so that you don't have to wait for it to buffer. You can also save in Full-HD MP4 formats offering excellent-quality playback for later viewing.
Similar to H4610, the membership price is higher than average. You'll pay $39 for 30 days, giving you a daily download limit of 3GB. However, this monthly membership only allows you to the 'Limited Movies.' To view the 'Deluxe Movies' and 'Bonus Movies,' you must sign up for 3 or 6 months.
Overall, Heyzo.com (visit site) is a must-have site for collectors of Amateur Japanese girls. However, the expensive price tags and limited selection of videos for their 1-month membership might be a deal-breaker for some.
#5 – 10 Musume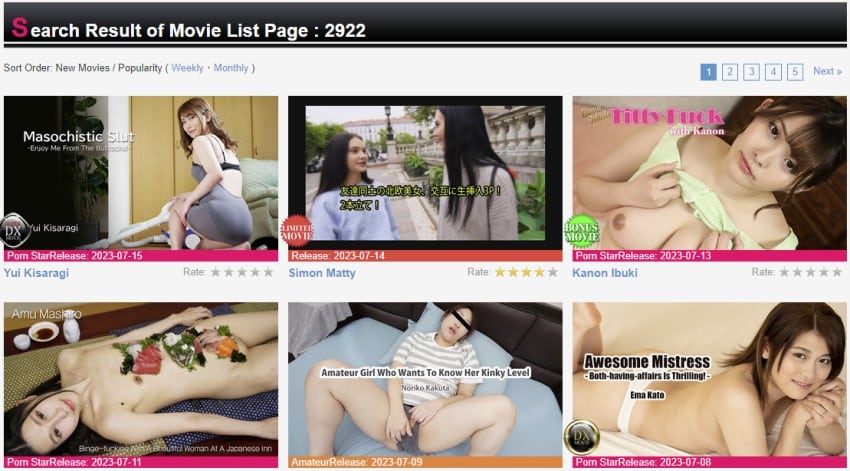 10 Musume (full review) is one of the lesser-known JAV networks. This original step-father and step-daughter fetish site gives you legal teens hooking up with older matures. There's a little bit of everything with categories for Slender, Chubby Girls, Light Skinned Girls, Cum Inside, Outdoor, Bareback, Teen, Female Ejaculation, Gangbang, and Older Women. However, there are a couple flaws to this site that made me question whether it was worth the expensive membership price.
The main flaw concerns the design and how the content is organized. The only search tool you have is to click on one of the categories from the left sidebar. However, the video screenshots displayed are model profile images. It would be better if there were a separate 'pornstar' page where you can browse all the amateur girls with links to each of their videos. But as it stands now, you'll need to click on the model image to view the screenshots for each scene.
Another thing I noticed is that the free tour isn't compatible with mobile. If you're visiting the site for the first time on your smartphone, you'll need to manually zoom in to read the text and view the free previews.
Although 10Musume.com (visit site) does have its flaws, you will find some stimulating content assuming you're willing to dish out the $48.50 per month.
More Japanese Amateur Sex
If you're still looking for Japanese amateur sex sites, I recommend you view our Latest Japan Amateur Reviews with in-depth site details to help you decide whether or not you should join.