Japanese Newhalf Porn article updated on July 16, 2023, by Riku.
Top-Ranked Japanese Shemale Sites
In this blog post, I wanted to share my favorite Japanese newhalf porn sites with you. Transsexual porn from Japan isn't easy to come across, but we've searched the internet for the best new-half sites and have come up with a top 3 list.
Below you'll find mini-reviews of each site click on the links to read the full site reviews or go straight to the sites and start exploring them yourself.
TGirl Japan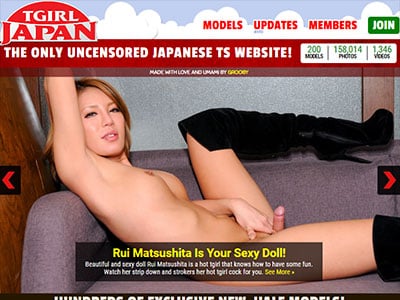 There is one Japanese uncensored newhalf porn site that stands above the rest. And that is TGirl Japan (review). This is the original Japanese new-half site with full HD videos for streaming and download. There are three new and exclusive sets added every week, and you'll find a detailed search engine for locating niche-specific content.
As for the actual scenes, it's a collection of 1348+ videos of solo masturbation and occasionally hardcore sex. The 'MODELS' page displays large images of the sexy new-half models with links to each of their scenes. The scenes are 10 to 25 minutes long, with hot ladyboys stroking their cocks for your viewing pleasure. You'll find some huge cumshot climaxes, and the POV cinematography is genuinely arousing. The photo sets also add value; you'll find each set available in Zip files for convenient downloading.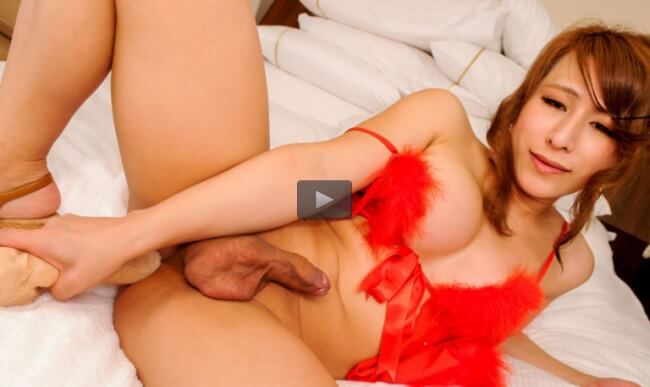 Overall, TGirlJapan.com scores high on our criteria. You get excellent quality, a great selection, and frequent updates of brand-new Tgirls from Japan. If I had one complaint, it would be the high percentage of solo scenes with only a dozen or two hardcore sets. But if you're okay with that, you can trust that you'll get your money's worth and some on this exclusive ladyboy site.
TGirl Japan Hardcore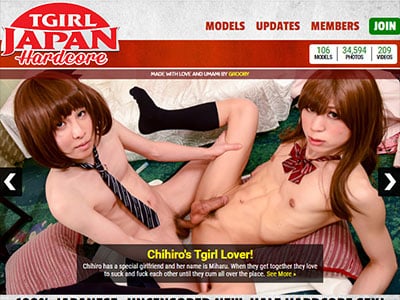 TGirl Japan Hardcore (review) is the companion site to TGirl Japan. Although the sites have similar names, each site offers its collection of 100% original content.
Whereas TGirl Japan is a solo mega-site, TGirl Japan Hardcore is considerably smaller in selection but comprises only hardcore shoots. So if you prefer watching Japanese ladyboys getting fucked by other males and transsexuals, then TGirl Japan Hardcore is for you.
There are 210+ exclusive Japanese newhalf sex videos, with a new set added every week. You'll find detailed model profiles with large images to learn more about each JAV transsexual model. The hardcore models include Sayaka Taniguchi, Makina Hoshinome, and Minami Minamino. You'll find various outfits and fetishes, such as nurses, maids, schoolgirls, businesswomen, and cosplay. Sometimes the Tgirls are dominant in the top position, while other times, it's the males that fuck the ladyboy.
TGirlJapanHardcore.com is solid with enough content to consider joining. It's compatible with all devices and includes bonus scenes from other Grooby Productions sites. If you prefer hardcore shemales from Japan, TGirl Japan Hardcore is an easy site to recommend.
Transex Japan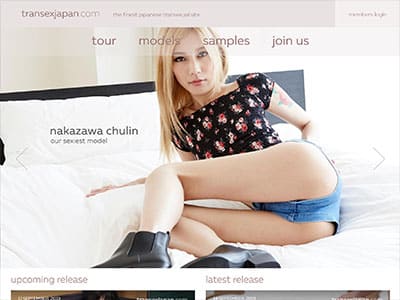 Transex Japan (review) introduced its newhalf models most romantically and sensually. This high-quality Japanese ladyboy site features glorious Full-HD 1920x1080P quality videos with some of the hottest transsexuals from Japan.
It's considerably newer than TGirl Japan and TGirl Japan Hardcore and hence is a smaller site in quantity of content. However, the unique hardcore videos will make a great addition to any serious collector of Asian tranny porn.
The site has slick, modern navigation and a clean, responsive website design. The main downside is that there are only 40 videos. Each scene can be streamed online or downloaded in 1080P, 720P, and 480P.
The latest release, Yoko Anal Fingering, features the mature transsexual Yoko in a solo ass-fingering scene filmed in POV. Another scene titled Allison Forced Ejaculation features the feminine Allison as she gets her cock stroked by a Japanese dude resulting in a huge cum blast over her belly.
You'll also find videos with the popular Japanese newhalf Miran, a slim and super feminine ladyboy who likes being both on top and on the bottom.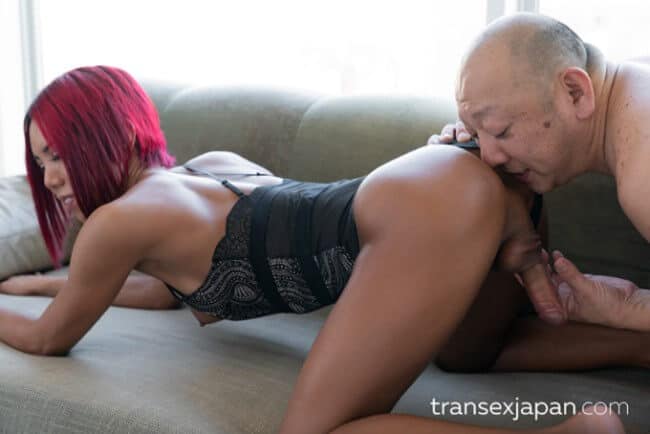 Ultimately, TransexJapan.com has a lot of potential. Still, with its limited content selection, you probably will want to avoid this site, at least until after they've accumulated more Japanese newhalf porn videos.
Best Japanese Shemale Porn Site Summary
It's a toss-up between TGirl Japan and TGirl Japan Hardcore. Regarding Japanese Shemale porn, these two sites will give you what you're looking for.
TGirl Japan is best suited for those who enjoy many solo scenes and masturbation. It's a true mega-site with content going way back, so there's always something new in the member's area. On the other hand, TGirl Japan Hardcore is for those who like ladyboy blowjobs and anal bareback.
As for Transex Japan, I would only recommend joining if you're a serious collector of Japanese ladyboy porn. Or if you're already a TGirl Japan or TGirl Japan Hardcore member.
Asian Ladyboy Porn Resources
If you're looking for other Asian ladyboy sites, I recommend you visit our companion site TSReviews.net, where we've reviewed the Top 10 Asian Ladyboy Sites.
Also, read reviews of the Top 80 Shemale Sites with in-depth details and membership info about each site.