Article updated on April 5, 2022, by author Riku.
In this blog post, I review the top 10 Japanese cosplay sites. Cosplay is short for "costume play," with beautiful Japanese girls exploring their sexuality through various outfits and costumes. You'll find Japanese schoolgirls, office ladies, naughty teachers, race models, and other bright-colored manga costumes.
So without further ado, here are my favorite AV cosplay sites from famous Japanese cosplay porn studios. Click on the full review links to learn more about each site or use the links that take you straight to the sites.
#1 – J Cosplay
J Cosplay (full review) is the largest archive of xxx cosplay porn videos. You'll find 469+ videos with content going back over a decade. It's a non-exclusive collection of various scenes and full-length DVDs from various porn studios. Most of the scenes are censored with genitals pixelated but there are some uncensored movies as well.
For browsing content, you can use the 'Videos' page which lists out the latest cosplay updates. Or you can browse by DVD cover if you want to download the full title. There's also a 'Models' page for viewing profile pictures with basic details and links to each of the model's scenes. Looking at the latest updates, the site appears to be rotating its content which makes it appear as if they're still updating. But there hasn't been anything added in the last two months.
On the plus side, you'll get full access to the All Japanese Pass network which includes 22+ niche sites. So when you join J Cosplay, you end up with the largest Jporn mega-site with a grand total of 18,656+ scenes. A standard monthly pass sets you back $39.99, but you'll pay as low as $12.99/month if you join for a year.
#2 – Cospuri
Cospuri (full review) was released in 2021 (April) but has so far already managed to upload 160+ high-quality premium Cosplay porn videos with Japanese girls dressed up in real custom-made Cosplay costumes. Each video comes with its own photoset and in total, you have more than 6000+ images to download.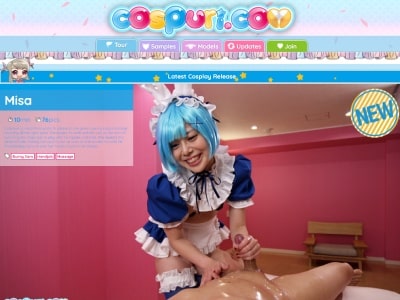 The videos have a really high production value and are really some of the most premium videos in the Cosplay xxx scene. Depending on which membership option you choose the videos can be streamed or downloaded in 4K UHD or 1080p.
A membership at Cospuri starts from $15.95 for a month with only streaming options; if you also want to be able to download the videos, it will cost you an extra $10.00. And if you want to download the videos in 4K quality you have to go with the premium membership costs $39.95 for 1 month.
Visit Cospuri now and start watching the free video previews before you decide on becoming a member.
#3 – Schoolgirls HD
Schoolgirls HD (full review) features young legal actresses dressed up in sexy schoolgirl uniforms. This teen fetish site is home to some of the hottest JAV pornstars including Runa Mizuki, Karin Aizawa, and Suzu Ichinose. You'll find a 'Models' page listing all 82 models with a total of 111+ exclusive schoolgirl videos.
You have the option to either stream the videos online or download them in three qualities. The best are offered in Full-HD 1920x1080P, providing excellent-quality playback. And since there is no censorship on any of the videos, you can enjoy the action in uncensored glory.
A membership plan to Schoolgirls HD costs $39.99, but in this case, you get what you pay for. Membership includes the entire JAV HD network with 17+ sites, each offering uncensored niche content. There's Gang AV, Lingerie AV, and AV Anal, to name a few.
#4 – Lollipop Girls
Lollipop Girls (full review) is a brand new release by the same company that created Handjob Japan and Legs Japan. This cosplay site features nubile babes shooting milk from their fake balloon dildos. Other scenes involve blowjobs in POV where lollipops are used to stimulate the guy's cock.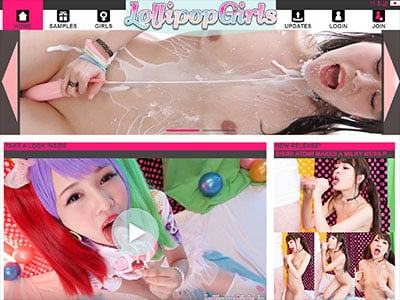 Lollipop Girls is limited in selection since the site has only been around for a couple of months. As I write this review, there are 380 minutes of video content and 3136 photos. Although the content is thin, the quality is a step above every other cosplay site. The JAV girls are absolutely stunning, with fresh new models performing for the first time on camera.
If you're looking for a high-end cosplay site with the hottest models and you don't mind that the selection is limited, then you'll want to look at Lollipop Girls.
#5 My Race Queens
My Race Queens (full review) gives you 109+ scenes of the hottest Japanese race queen porn. The costume play features hot Asian race girls in various hardcore sex categories. It's been several years since I first reviewed this site, and only a handful of videos have been added since then. You end up with a moderate-size collection of sexy race girls getting fucked in censored and uncensored videos.
The 'DVDs' page from the top menu displays the original front and back DVD covers. There's also a 'MODELS' and 'CATEGORIES' page for accessing the bonus sites. As part of the All Japanese Pass network, you're getting a great deal of content, including several of the sites reviewed on this page—namely, Office Sex Jp, Jp Teacher, Jp Nurse, and J Schoolgirls.
Although most scenes are censored, My Race Queens is an excellent cosplay site that includes a handful of other theme-related sites. As such, you can trust that you'll get your money's worth.
#6 – Office Sex Jp
If Japanese business ladies and sexy office sluts sucking and fucking in the office are your thing, then Office Sex Jp (full review) will not disappoint. It's one of the larger sites included in the All Japanese Pass network, with 556+ office sex videos. You'll find older MILFs getting gangbanged by horny businessmen as well as bossy secretaries taking sexual control of their staff.
It's a great concept, and you get a nice selection of videos. But on the other hand, most videos are censored, and the quality isn't that great. The scenes are sometimes labeled "HD," yet many of the older titles don't appear that clear. My guess is that they took SD movies and tried converting them to HD, which doesn't work.
In the end, it's the video quality and quantity that matters. And I've deemed Office Sex Jp a good but not great site.
#7 – Cream Lemon
Cream Lemon (full review) is an unusually named Japanese porn mega-site with 441+ cosplay scenes. It's a 100% original collection of "pretty girls" that continues to update almost daily with brand-new releases from Japan. Including the other categories such as Creampie, Hamedori, Bukkake, Masturbation, and Orgy, you'll find a total of 2475+ movies to download or stream.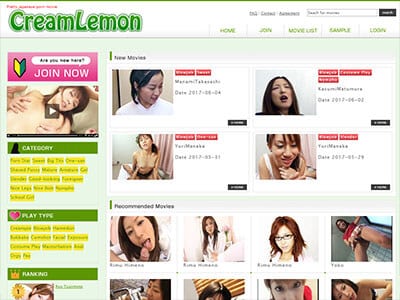 The girls are displayed by non-nude images, with the top-ranked girls displayed on the left sidebar. Currently, the top 3 models, as voted by site members, are Natumi, Nana, and Hibiki. There's a wide range of hardcore sex scenes with outdoor videos and group sex scenes.
Cream Lemon scores high on most of our rating criteria with a fantastic selection of high-quality movies. Unfortunately, a membership pass will set you back $49.95/month, making it one of the more expensive Japanese paysites.
#8 – Jp Nurse
Jp Nurse (full review) promises the best nurse porn videos from Japan. It's a non-exclusive collection of 640+ videos with hot Asian nurses taking extra care of their patients. You can browse content by 'Newest,' 'Size,' and 'Views.' You can also use the 'Models' index page for locating specific model videos, and you can browse by DVD cover.
The first video I watched was titled Cock-Starved Japanese Nurse Gives a Deep Blowjob and Ride On Hard Dick. The sexy nurse removes his underwear and proceeds to suck his cock before riding him in a cowgirl position. Other titles include Lesbian Nurse Fucking Her Patient Good, Amateur Nurse Endures Harsh Fucking, and Busty Japanese Nurse in White Pantyhose Gets Her Hairy Pussy Fucked.
I have no complaints about the user interface or the number of videos. However, this site is lackluster in video quality. The content is mostly in standard definition video, going back over a decade. It's not so bad that it ruins the site, but compared to the sites I'm used to reviewing, the videos seem a bit grainy.
It's not all bad, though, and many of the bonus sites, such as 18 Tokyo, Idols 69, and Anal Nippon do continue to update in HD. As part of the All Japanese Pass network, you also get other cosplay sites including J Schoolgirls, Office Sex Jp, and My Race Queens.
#9 – J Schoolgirls
J Schoolgirls (full review) promises the cutest Japanese schoolgirl porn videos. This site is home to nearly 1000 videos of hot Japanese college girls. So if you enjoy sexy schoolgirls with their short skirts and stockings, then this site is for you.
Like most All Japanese Pass sites, the video quality varies from scene to scene, with content from various porn studios. You can watch online or download the videos in 3 different MP4 sizes. The best are offered in HD, but most scenes are mediocre.
The actual sex scenes are very arousing. The teen babes are horny and willing, and there's great variety among the 956+ videos. You'll find group sex scenes filmed in the classroom and older teachers having sex with legal-aged students.
J Schoolgirls is a large network with mainly uncensored videos featuring hot 18- and 19-year-old schoolgirl fantasies.
#10 – Cosplay Site
Cosplay Site (full review) is a non-exclusive collection of hardcore costume play movies. You'll find sexy Japanese girls dressed as maids, nurses, air hostesses, and other bright-colored cosplay outfits. There's no real consistency in the category, with each scene offering its unique style of cosplay porn.
Cosplay Site promises frequent updates with unlimited streaming and downloading for movie viewing. Finding your way around the member's area with category tags for locating niche-specific content is easy. Categories include masturbation, hairy, blowjob, facial, teen, school, sex toys, wigs, and many more.
Unfortunately, I wasn't all impressed with the quality or quantity of videos. There are just under 100 videos, and all the scenes are censored. The video quality is lackluster, and the videos seem to have been uploaded to the site many years ago.
In the end, Cosplay Site is a mediocre site with low-quality videos and infrequent updates.
Japanese Cosplay Sites
If you're still looking for the best cosplay porn, I recommend you visit our Latest Cosplay Porn Reviews with honest and in-depth reviews of the best cosplay sites. You can also view our Top 20 J-Porn Sites, where we've ranked and reviewed the most popular JAV sites.