Introduction
It's been a while since we last updated our site with a new Japanese paysite review. It's not that we've become lazy; it's just that it's been so hard to find any new site worth reviewing.
Today's site Erox Japanz is a worthy addition to any Japanese porn collector. It's not a new site. But it packs a ton of content covering amateur girls, MILFs, BDSM, anime, SM, and Mania (extreme).
Impression
Erox Japanz is one of the simpler-looking designs from the DTI Services company in Japan. Although DTI has released a ton of high-quality sites, including Carribeancom, HeyDouga, 1Pondo, and PacoPaco Mama, I'm guessing you've never heard of them. But it'd be a big mistake to write this site off as a fly-by-night company.
Over the years, Erox Japanz has been updating its site relentlessly, with 6+ new movies added each week. The result:  You end up with over 10,000+ uncensored Japanese porn movies! It's also very friendly to English viewers.
The top menu links to "New Users" and "Instruction." The former gives you the basics of what to expect inside. Things like "no download limits" and "access to 60+ sites" sound like an exaggeration, but I can assure you they deliver on all their promises.
The "Instructions" page shows how easy it is to save the movies to your computer with either a PC or Mac. You'll see all the main categories on the main menu at the top and links to "ALL MOVIES" and the top-ranked Japanese models.
EroxJapanz Videos
An excellent place to start is the ALL MOVIES page. Each movie links to a detail page that displays essential information about each flick. All the movies come in streaming and downloading options. Sometimes the scenes are broken into multiple clips, and sometimes there are full-length options. At 640×480 resolution, the video quality isn't the best I've seen. But the downloads are fast and flawless. They are also delivered in their original uncensored format.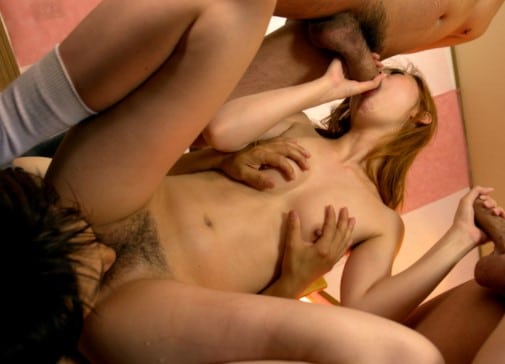 On the left sidebars are the categories. It's an extensive list that includes Big Tits, Finger Fuck, Outdoor Sex, Lolita Girls, Uniform, and Teens (there's also a "Buruma" category – if anyone knows what this word means, please let us know by posting a comment below). Each of the main categories from the top menu (Original, AV Stars, Amateur, MILF, SM, Mania) lists the latest updates on the top.
You can browse content by niche, model name, or channel. Although the embedded flash player allows you to stream the flicks online, if you're like me, you'll want to save them to your computer for later viewing. To do this, right-click and "Save-As."
Membership Price
Here's where things take an exciting turn. Membership to Erox Japanz is a fixed price of $99/month. You probably think that's way too expensive. And depending on your budget, it's perhaps more than you've ever paid for a Japanese porn site.
Conclusion
Erox Japanz puts most American networks to shame regarding size and download speeds. But the video quality still needs improvement.   If the quality was as impressive as the sheer volume of titles, you could probably justify the high membership cost.
But as it stands now, it's hard for me to justify spending $99 on any site regardless of how much-uncensored content there is. You can easily find some of the top Jporn sites for only $29.99 per month.
Recommended Reading For You