SpermMania Review updated on September 7, 2022, by Japan Uncut.
Introduction
Japan is known for its kinky and, many times a little bit weird porn fetishes, they seem to have no limits to their creativity when it comes to producing porn.
Today's premium Japanese blowjob site will be a great addition to any fan of bukkake videos who loves extreme cum play.
Sperm Mania is a facial and jizz specialty site that delivers only videos of the highest quality.
All the Bukkake porn content is exclusive and uncensored with hot innocent-looking Japanese girls that steal the show.
In the Spermmania review below, I will walk you through the different aspects of the site. I'll cover video quality, quantity, user experience, navigation, and membership options. As you'll soon discover, it's not a perfect site. But at the same time, it's one of those rare sites you can't ignore.
If you are looking for the top sites with the best-uncensored porn from Japan. Then read our blog post — 20 Best JPorn Sites Reviewed.
Impression
I've always been fascinated by Japanese porn, especially the harder-to-find releases from Japan. There's something extraordinary about Asians that I can't seem to get enough of. Perhaps it's their submissive demeanor, or maybe it's their alluring faces and petite figures. Whatever the reason, I think you'll agree that the girls on display at Sperm Mania are sexy as fuck!
Watch Free Spermmania Samples
The site free tour gives free video samples of the latest updates. You'll find them on the SAMPLES page from the top menu on the homepage.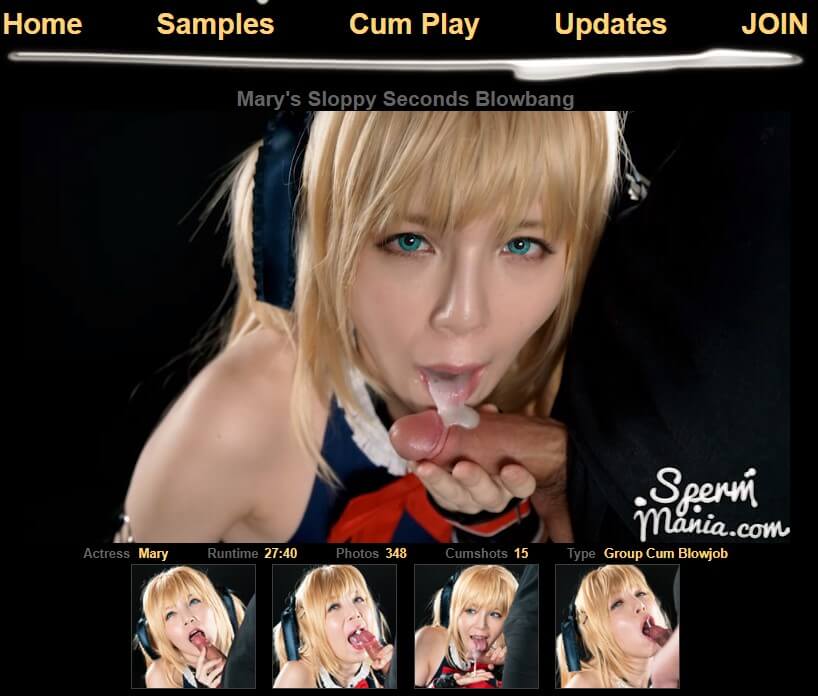 Content
Currently, the member's area comprises 250+ Japanese blowjob videos. The site's premium Japanese bukkake content is 100% exclusive, as promised.
If you've ever been a member of Fellatio Japan or Handjob Japan, you already know about the high production values from these same company sites.
The Japanese Bukkake Videos
Each cumplay scene on SpermMania follows a consistent theme. The background is always pitch black to emphasize the fair-skinned nubiles. The guys are usually dressed in black, but you never see their faces as the camera focuses on the girl. Unlike Handjob Japan and Fellatio Japan, Sperm Mania isn't shot in POV. But the way the cameraman works his magic still makes it for memorable scenes.
Many bukkake videos involve a girl on her knees giving a double handjob. She jerks one guy off with her left hand and the other guy with her right. After the first guy cums, she will play with the cum. Sometimes she'll rub it on the other dude's cock. Often the guys will shoot their loads on her face. Sometimes she'll spit it out; other times, she'll slobber and drool before swallowing. It's very arousing, especially if you're into this type of cum fetish play.
Format & Quality
Each video comes in a Full-HD MP4 format. You can stream the movies online or download them in 480p, 720p, and 1080p. I highly recommend downloading the highest resolution format as the quality is remarkable.
Images
In terms of photography, you're getting equally high-quality content within the 250+ photosets. You can download each of the high-res 3840×5760 photo sets in zip folders.
Membership Price
At SpermMania there are 3 different membership options:
$29.95 for 1 month
$54.95 for 2 months
$79.95 for 3 months
Conclusion
SpermMania is a gooey-good time featuring gorgeous Asian faces getting blasted with jizz. The site continues to update weekly with more Japanese cumplay porn, so you'll have good reason to renew your membership.
If your main interest is Japanese blowjob porn (top 5 list), you must visit this premium bukkake site.
Recommended Reading For You