Introduction
Authentic JAV porn is something special, but the good sites aren't always easy to find.  Doing a Google search will often give you censored and scammy Japanese porn sites with content purchased and re-used from other "Asian" networks, but that is not the case with Heyzo.
So don't worry, because today's site review is Heyzo.  It's a brand new release from the same company behind Live Asian Webcams — Japan's most popular live sex network. As a JAV paysite obviously there are no live girls on Heyzo. But what you do get is one of the most authentic Japanese porn download sites that we've ever come across.
Finally a full-length Japanese DVD download site in 100% uncensored Full-HD that is well-presented for English speakers!  And since it's all-original, you can trust that you've never seen any of the brilliant 1920 x 1080 mind-blowing videos.
If you are a true fan of uncut JAV porn? Then also read our article the 20 Best Uncut JAV Site List
Impression
Heyzo is a comprehensive site focusing on 3 main genres: MILFs, Amateurs, and Pornstars.  Obviously, there are other categories within these genres, but that's how the content is organized.
The top menu shows pages for ALL MOVIES, PORN STAR, AMATEUR, and MILF.  The ALL MOVIES page displays all of Heyzo's original movies by model profile pictures. The movies are automatically sorted by date, but you can also browse by popularity voted by members.
Moving on to the MILF page, you'll find a high-resolution trailer of their most recently added film.  One thing to note is that the models are a little older, so they truly fit the MILF category.  All the models are unique to the site. So that's an added bonus, especially if you're a true collector of uncensored Japanese Milf porn.
Content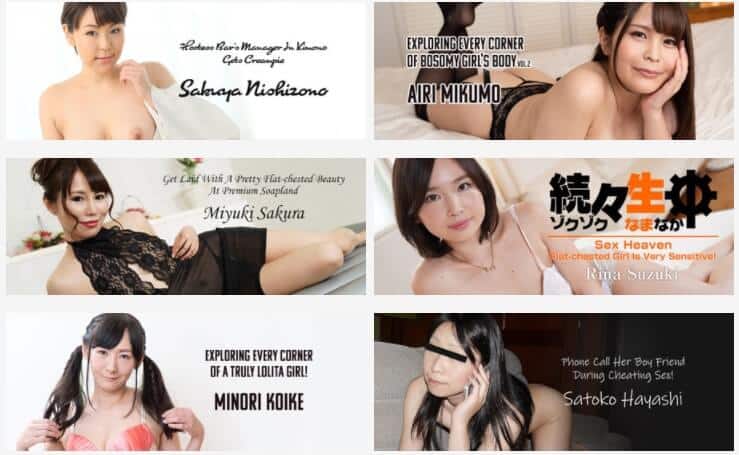 Currently, there are 300+ full-length scenes with new scenes added almost every day.  The left menu displays the search options as follows:
ACTRESS: Porn Star, Amateur, MILF, Big Tits, MILF, Nice Booty, and Young
SEX STYLE: 69, Creampie, Anal Sex, Orgy, Tit Fuck, Blowjob, Riding, Doggy Style, Cumshot and Squirt
THEME: Affair, POV Shot, First, Teacher, Cosplay, Uniform, and Kimono
You can also browse all the models by a complete model list (sorted alphabetically) with almost as many models as there are movies.
By clicking on any of the images from the genre or all-movie pages, you'll start viewing the scene on the embedded flash player. If your internet is slower, you can conveniently change the quality without interrupting the scene. On the other hand, if your internet is fast, you'll want to enjoy the HD resolution mode.
Underneath the embedded video player is a list of sections you can skip to.  For example, if you only want to see the woman-on-top or cumshot of the scene, then you can click on that position from the image menu below to jump to that point.
As for downloading the movies, you also have the option of only downloading specific sections (conveniently labeled by sex position), or you can download the full-scene in MOBILE, HD LITE, or FULL HD.  Each file is also appropriately labeled so you won't have to rename them after downloading them.  To save the movie, just right-click and "Save As" to start downloading the movie.
Price
1 month – $48.00 (Daily download limit 3 movies)
3 months – $128.00 (Daily download limit 4 movies)
6 months – $248.00 (Daily download limit 5 movies)
Conclusion
Heyzo was a pleasure to review and took 3rd place in our Japan mature site list.  It's a great find to have authentic and exclusive Japanese porn without censorship.  And the design and navigation is better than most xxx sites based in Japan.
As for the price, it's $48 for 30 days, which is more expensive than most sites.  But if you're willing to dish out the extra cost. Then you'll be glad you did because it's not every day you come across uncut JAV porn as unique and visually stunning as at Heyzo.