Article updated on July 15, 2023, by Japan Uncut.
The 5 Largest Japanese Porn Sites
In this blog post, I wanted to share with you the largest & best JAV porn mega-sites. Japan porn tends to be more expensive than average but at least with the sites below you can trust that you're getting a great deal of content.
So without further ado, here are my favorite Japanese mega-sites including in-depth reviews of each site (click on the link below to read the full review).
#1 – JAV HD
JAV HD (full review) is our #1-rated Japanese porn mega-site. It's a huge collection of 4,250+ exclusive scenes filmed in 100% uncensored videos.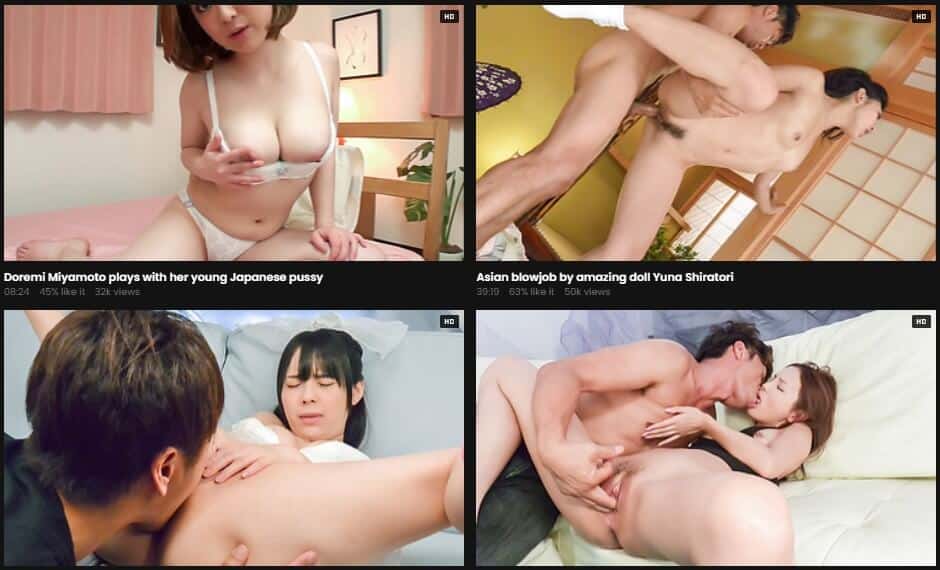 The content comes from 17+ individual sites with each site offering a different category of niche porn. Sites include Schoolgirls HD, Hey MILF, Gang AV, and AV Anal. Inside the member's area, you can browse each of these 17 sites or you can use the categories to filter through the entire network of videos.
As for the quality of the video, each scene comes in an HD MP4 format that you can download for later viewing or watch online in case you're in a rush to see the video. The site continues to update daily with exclusive new sets, so it will only get better over time.
However, since this is a premium site, it is expensive if you sign up for only one month ($49.99). But if you get the annual membership the price drops all the way down to $19.99/ month.
In the end, it's the quality and quantity that will either make or break a site. The site scores high on both but you'll need to dish out a high membership fee if you want to access this 100% uncensored network.
Visit JAV HD now and check out their content.
#2 – Japan HDV
Japan HDV (full review) is for fans of uncensored Japanese porn movies who want to understand what they are saying during the scenes. Japan HDV is the best Japanese porn site with English subtitles.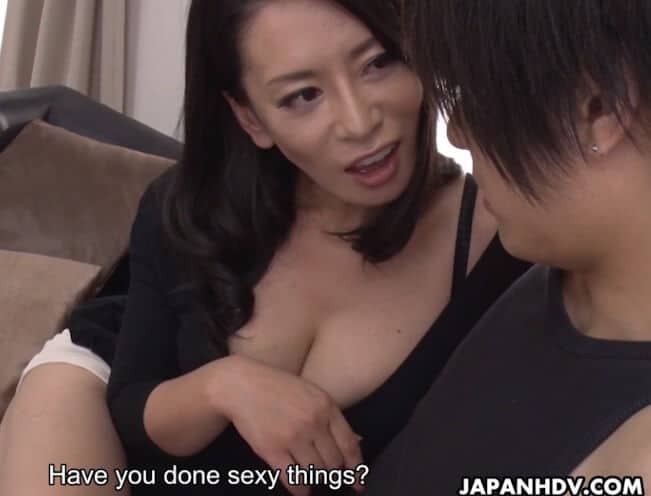 With over 1500+ movies and 500+ Japanese pornstars, it is the largest collection of uncensored Japanese porn movies with English subtitles. Each movie is around 45 min with a reality theme in each video.
The video quality is high, and the movies have high production values. You also get a large selection of famous Japanese pornstars, each with its own profile page where you can learn more about their story and appearance.
Japanese porn with subtitles is rare to find so you would think that a site like this is going to be more expensive? But luckily that is not the case, monthly membership starts from only $14.99/month.
Visit Japan HDV now and explore the site by yourself.
#3 – J Sex Network
J Sex Network (full review) is a Japanese porn collector's dream come true. This is the perfect site if you're looking for rare and hard-to-find titles from Japan. As the largest Japanese DVD collection on the net, you'll find a whopping 13,400 full-length DVDs.
The reason why I ranked this site #3 is that there are no online streaming options. Basically, when a new title is released in Japan, it gets included in the J Sex Network archives. You can browse content by pornstar profiles or by the actual DVD cover. And once you find a title that catches your attention, you can right-click and "Save As" to download the video.
Since this is an authentic Jporn collection, nearly every title is censored with Japanese pixelation. This is the main downside to the site but if you're okay with uncensored videos, then you'll be impressed by the sheer volume of updates. Literally every day there are new titles uploaded to the site so you basically have an unlimited amount of Japanese DVDs at your fingertips.
Head out to JSexNetwork.com and check out the latest video uploads.
#4 – Caribbiancom
Caribbiancom (full review) has been around since the early 2000s and is one of the most trusted Japanese porn sites with over 4200+ original full-length movies.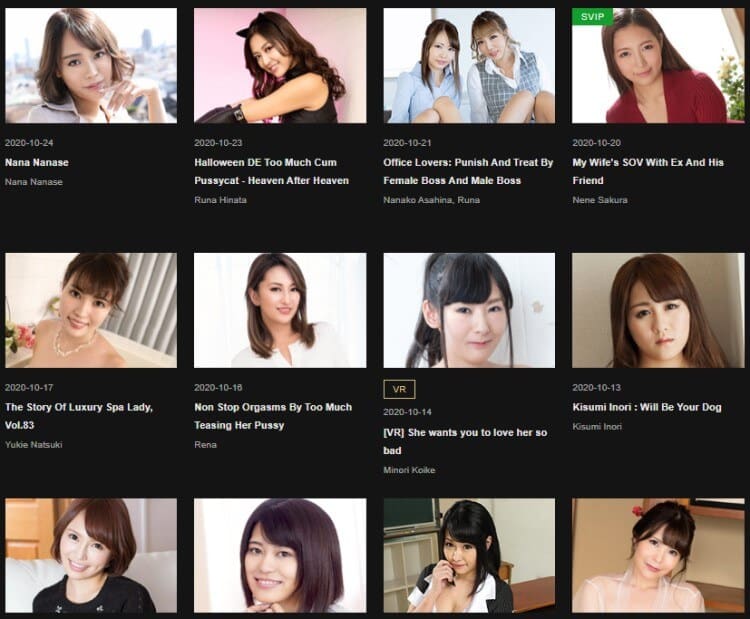 Carbibbeancom is for fans of full-length JAV DVDs. Here you find the latest release from Japan ready to be downloaded to your computer, phone, or tablet in up to full HD video quality.
The site covers all the popular Japanese porn categories, including JAV VR porn. When it comes to membership options, they have several different ones to choose from, with the cheapest starting at $15.00 per month (only streaming), and with downloading starting from $41.99/month.
Visit Caribbiancom.com now and learn more about this giant collection of adult Japanese DVDs.
#5 – JAV Cube
JAV Cube (full review) is a portal to 2 individual paysites. You get the full-length releases from JAV Model as well as the uncensored videos from Japan Hardcore Movies in a 1-password account. Adding up the total number of videos on each site gives you 6791+ videos in censored and uncensored versions.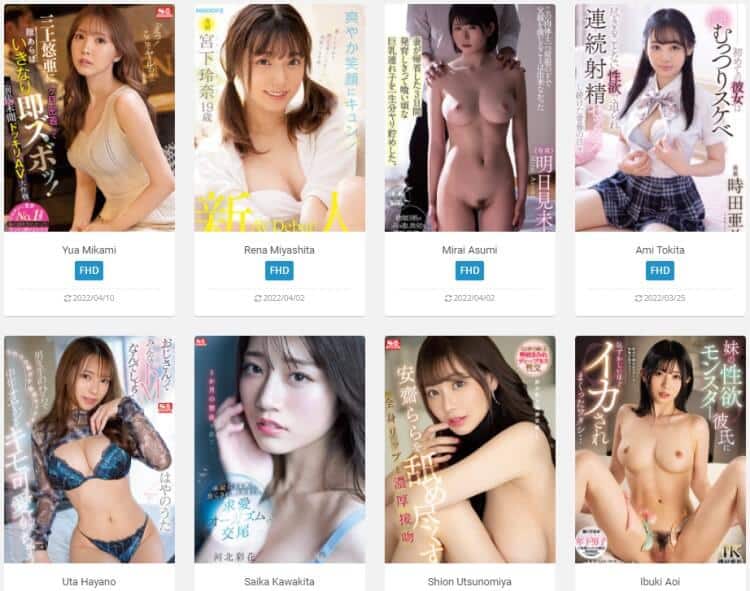 JAV Cube has one of the slickest members areas with large DVD images for browsing the content. You can filter by 'censored' and 'uncensored', and you can view model profiles with links to each of the pornstars' videos. This makes finding your preferred type of AV model easy since you can use the model's faces to find your preferred kink or fetish.
If you're on a mobile device, then you'll be glad to know that the site is responsive on mobile. You can easily watch the online videos on the embedded video player or you can save an MP4 compatible on smartphones.
Although not quite making the top of this list, JAV Cube (visit site) is an excellent paysite with both full-length DVDs and individual scenes that you won't find on other networks. It's also very reasonably priced at only $33.95 for recurring monthly memberships.
Best JAV Porn Mega Sites
If you're still looking for the biggest Jporn sites, then I recommend you view our latest mega site reviews, where we've reviewed and ranked the best site. You can also view our complete list of the best Japanese sites with over 140 porn site reviews.