HGMO Review updated on October 28, 2020 by Riku.
Introduction
When we started this Japanese porn review site over 5 years ago, it never occurred to us just how many JAV porn sites there were.  Even after the first 30 site reviews, we thought that we'd already found all the best JAV porn sites.  But every now and then, a site comes to our attention that deserves special attention.
Today's site review is HGMO, or 'High-Grade Movie Online'.  The only way to describe this site is a massive uncensored network comprising of all all-exclusive collection of top-notch JAV porn. It's got an easy-to-access interface and the site continues to impress with frequent updates. Keep reading to learn more about this relatively unknown site.
Impression
The site design is plain but effective.  It's a good example of how you don't need a flashy site to be a good one.  The landing page displays the most recently added scenes by screenshot images. On the right side are the latest 6 updates displayed by date. Underneath are all the categories including some unique porn categories.
I had to do a Google search to find what some of these niches actually meant.  It turns out that Coprophilia is the name for the shit fetish porn.  But it's not all creepy fetish porn, and for the most part, it's high-grade quality content all the way through.
Other interesting categories include 'Lolita complex', 'Insult', and 'CIM' (Cum In Mouth).  Of course, there are also the more mainstream categories as well such as schoolgirls, anal sex, and bukkake. In other words, the site has a wide variety of niche-specific videos.
HGMO Videos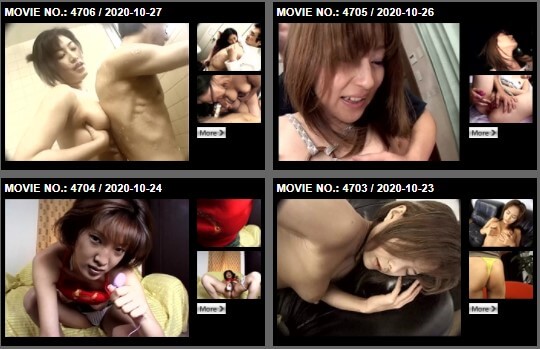 There are two ways to go about finding your preferred movies.  The first is to click on the MOVIES page from the top menu.  This will display all 3086+ uncensored AV movies by date.  Each page displays 36 scenes displayed by small screenshots.
The images are too small for my liking, but you can easily increase the size of your page display (ctrl + will do the trick).  This way you can quickly sift through the massive archives of video content to quickly find something that catches your attention.
The other way is to use the category list, but the search results don't always give a perfect match.  To filter your results, simply click on any category and you'll be taken to the movie page with that category filter in place.
Site Usability
Movie formats come in standard MPEG and WMV formats, so you should have no problems getting them to play.  Most movies come in full-length download options in both formats, but others are broken down into 3 or more split files. I'm not sure why this is, but it seems to be only with the older scenes.
The site goes back all the way to 2003, but all the newer updates come in their full-length versions. Each file is approximately 1GB for MPEG and about 3GB for WMV. Note that there is a download limitation of 5 GB per day, which limits your daily downloads to about 2 or 3 movie downloads per day.
Price
Here's where things take an unexpected turn.  Monthly membership to HGMO will set you back $69 per month.
Authentic sites such as these which are based in Japan tend to be more expensive, and if you've ever bought a porn DVD in Japan, then you'll know how expensive they are.  So compared to the English-marketed Japanese sites like JAVHD (review), it's over double the cost.
Conclusion
Genuine Japanese porn without censorship is hard to come across.  And for high-quality uncut JAV porn, this is one of the better sites we've seen.  But it's also one of the more expensive ones.  I can understand the high cost, but what I don't understand is the download restrictions.  If it weren't for that, this site would have received an even better rating.