Japanese Femdom Videos Review updated on March 13, 2021, by Japan Uncut.
Introduction
For anyone who appreciates hard and punishing Japanese Femdom videos, then you're going to love the exclusive Japanese bondage girl-on-girl domination scenes in today's JAV Femdom site review.
Say hello to Japanese Femdom Videos — the ONLY all-female domination site with exclusive babes from Japan!
Submissive Japanese chicks and hard (sometimes extreme) sex. Combine these two elements and you have a winning formula that will excite even the most desensitized porn viewers!
Japanese Femdom Content
I'm not surprised to find the top-quality content offered on this site.  Leave it to the folks from the Fetish Network to provide the realism of extreme arousing content in a myriad of kinky sex scenes.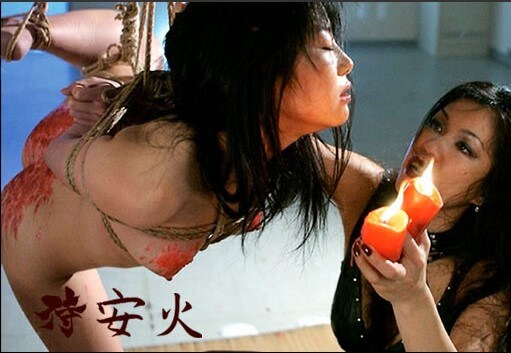 Japanese lesbian lust has never looked better in these 56+ hardcore JAV Femdom videos offering Japanese sluts dominating and humiliating each other in terrorizing ways.
Schoolgirl slaves, double strap-on penetration, spanking, slapping, and candle wax is what you find on this exclusive hardcore site.
The JAV Femdom Scenes
One scene has a beautiful mistress who ties up her innocent slave in rope and covers her in a grey, gooey mud.  She whips her into submissive as she squirms in pain and ecstasy.  This seems to excite her master even more as she aggressively forces her strap-on in and out of her tight asshole.
Another perverted Japanese lesbian bondage scene explicitly shows a woman bound and gagged as her wicked mistress spanks and humiliates her.  She tries to escape but her efforts are futile.  Screams of torment fill the dark atmospheric room with screams of torment.  The punishment continues with tit and pussy torment.
Format & Quality
In terms of originality, this ranks among the very best.  Quality is also outstanding with a good variety based on your internet speed:  RealVideo comes in 600×400 (1177kb/s) and 500×332 (717kb/s).
If you don't want to download the Japanese femdom videos from the site, you also have the option to stream in Flash.  There's pretty much something for everyone here and I had no problems downloading or streaming any of the movies
Censorship
My main complaint (and depending on who you talk to, this is either a huge problem or a minor hindrance) is the censorship.  Yes, this is typical JAV porn sites, so it shouldn't come as a big surprise that the Japanese pussies are hidden behind mosaic pixelation.
If you like images of extreme Japanese femdom, then don't expect a whole lot here either.  It's mostly just screencaps in average quality.  Personally, it's not a problem for me since the extreme video content satisfies without the need for photography.
Value
For value for your buck, there aren't many sites out there that will give you a better deal. Earlier I mentioned you get 56+ Japanese femdom videos, but this is not including the MASSIVE bonus network sites with a total of 40+ fetish porn sites.
When you sign up, you become part of the world's largest and most successful fetish network including Japanese niche sites Tokyo Slaves and Shibari Dolls (Japanese rope bondage).
You also get a ton of non-Asian content for a total of 40+ fetish sites including 3000+ DVD quality movies and 50 updates per month.
Price
2 days trial – $0.00 (limited access)
1 month – $39.95 (full access)
3 months – $23.31 per month (full access)
12 months -$16.66 per month
Conclusion
Overall, I was pleased with the Japanese Femdom video content.  JAV femdom, kinky spanking, lesbian BDSM, Shibari porn, and so much more make this site a unique sexual ecstasy among lesbian Japanese porn sites and fetish fans in general.
The content may be censored at times. But the superb bonus sites particularly the Japanese ones, have some of the most memorable scenes I have ever seen. This alone makes it worth every penny.