Introduction
Every now and then, I come across a paysite that is so extreme and so unusual, that I can't help but feel drawn towards the mysterious dark side of Japan.  Hardcore Punishments is a rare glimpse into the most extreme studio in all of Asia.
100% Exclusive Japanese Sado-Masochism Fetish Videos like no other; this site has successfully produced some of the most perverse acts of S&M ever caught on video.
If you are offended by depraved, sometimes violent Japanese porn, then this site is NOT for you.
The Japanese BDSM Scenes
This site takes Japanese BDSM and JAV Shibari porn to an unfathomable level of brutality.  These BDSM scenes are shocking.  Rope bondage, electrocution machines, and innocent Japanese girls fucked by machines.  It's 100% Uncensored Extreme Japanese Porn like you've never seen before.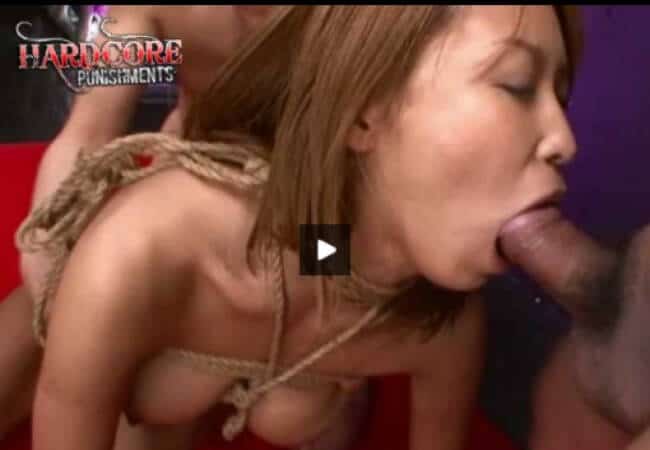 One scene has a Japanese sex slave hogtied and helpless as she obediently takes a hard spanking!  A cock is being forced down her throat as another penetrates her tight little asshole.  Her screams are brutal.  The violence is real.
Another scene has a submissive Japanese slut tied up and humiliated as her face is slapped.  The horror continues as she's electrocuted and her pussy succumbs to vibrators that give her multiple screaming orgasms.  After each orgasm she is forced to endure, her screams become more intense as her abused pussy and oiled up body continue to withstand the abuse.
Some scenes overdo it.  The screaming Japanese chicks can get a bit tiresome after a while.  The sex is rough, though at times it appears exaggerated.  You'll see plenty of orgasms combined with hardcore BDSM pain.  Visually, the scenes are spectacular!  The Japanese models look incredible as their helpless bodies are tired up, greased up, and covered in a red slippery goo.
Hardcore Punishments Content
Access into the member's only area displays links to videos "BDSM," "Fucking Machines," "Models," and "Rough Sex."  There's also a "Featured" section which shows the newest films, and a "Photo Galleries" linking to all the explicit model images.
A quick mouse slide over the photo galleries link will list all the models to explore.  Each model set has 50+ high-quality photos which can be viewed in full screen (1500×1180 and 1240×1500).  There is no option to download it as a .zip file, so you will need to save each one individually.
Overall, I was pleased with the quality of content, I just wish there was more.  Currently, there are 30+ movies (30 minutes average length) and 6 submissive models.  Updates are frequent, usually at least once a week.  All content is 100% Exclusive to the Hardcore Punishments site so you won't find any of these models or videos anywhere else.
Price
2 days trial – $4.95
1 month – $29.95
3 months – $74.95
12 months – $174.95
Conclusion
Hardcore Punishments is an extreme site in our Japanese BDSM top list with a ton of forced orgasm scenes.  The scenes can be a bit too much, and it's definitely not everybody's cup of tea.  But for those of you who enjoy exploring the dark and explicit, these submissive angels will delight you in extreme ways.
Visually stimulating and 100% extreme, Hardcore Punishments is sure to be a hit with lovers of Asian Bondage and S&M.  Enter at your own risk!