Introduction
Forbidden East is yet another extreme Asian BDSM porn site focusing on Japanese submissive women.  Here, you can enjoy all forms of rope bondage, suspension, and extremely rare Japanese erotica.  They've also included a section of hentai movies to mix things up a bit.
Forbidden East is beautifully designed with clear, crisp images of bound girls in pain, some being burned with hot red candle wax.  There's a free trailer for you to check out which will show you what to expect in the member's area.  If you like what you see, then you will also enjoy the unusual collection of authentic Japanese bondage movies in the member's area.
Content
There are 100+ videos of Asian BDSM porn action to quench your thirst for extreme Asian bondage.  The videos are quite old, mostly from the 90s, which can be a good thing if you're looking for hard-to-find Japanese vintage porn.  For others, the grainy video playback will look outdated compared to today's J-porn networks.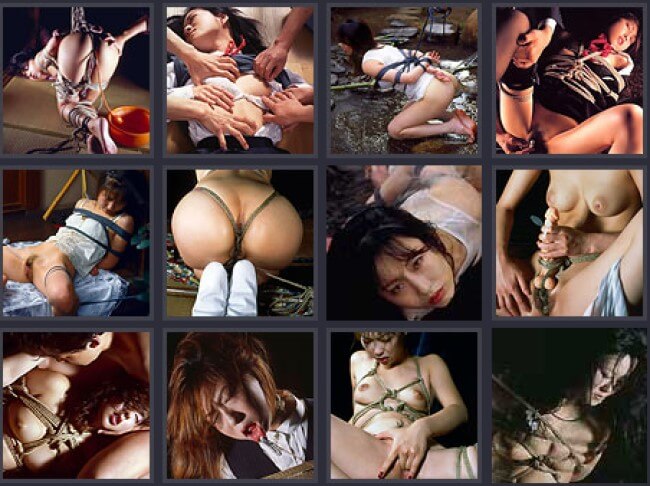 There's nothing wrong with Forbidden East per se, only that it's hard for me to give this site a high ranking when comparing it to other Japanese BDSM sites, and Asian Shibari sites.  Forbidden East has been around for a long time, over a decade, but the amount of content doesn't reflect this.  It seems that they built up their site to a bare minimum amount with just over 100 movies, and then stopped, leaving members craving more.  You don't get a whole lot of videos to choose from, but with an average movie length of about 50-60 minutes, there's still enough to satisfy your desire for pain and pleasure.
As mentioned, the video quality isn't perfect, but it's not all that bad either.  Movie downloads max out at 640×480.  Download speeds were faster than expected, which is a good thing if you're in a rush for a particular flick.  If you want to watch online, you can use the in-browser flash player, but it doesn't allow for jumping ahead of the file while playing.  If you are impatient, I recommend you save the movies to your computer for a smoother playback experience.
Pictures
In terms of hardcore bondage photography, image size looks great at around 1500×1000, though many pictures are much smaller at only 550×450.  There are no .zip files so you will need to download each image individually.
The photo size/quality is all over the board with some nice images at around 1500×1000 and many others with smaller images at about 550×450. Other than the 300+ galleries (50+ pics in each), you also get a mixed bag of content such as hentai videos and movies, which is nice, but not really fitting to the site's main content.
Price
2 days trial – $4.95
1 month – $29.95
3 months – $74.95
12 months – $174.95
Conclusion
Despite the site's main flaws, Forbidden East is a gateway to some of the most intense J-porn fetish and Asian BDSM porn videos.  Fans of vintage porn will love the softcore and hardcore Japanese submissive girls as they squirm, wiggle, and scream in pain and pleasure.
Try it out for 2 days for $4.95 and see what you think.  If you like what you see, membership for a month of this fascinating, dark, and kinky porn, will cost you $29.95.
Visit Site