Introduction
Today's review is Hentai Niches, the site that features more perverted Japanese animated content than anywhere else.  There's a little bit for everybody including bondage, lesbians, trannies, tentacles, and other content which I can't even describe.  There are Hentai xxx movies, pictures, and even games, all of which are included in a standard monthly membership.
Impression
Hentai Niches isn't actually a site.  Rather, it's a portal to 6 different Hentai xxx sites.  In other words, you get more bang for your buck.  The hentai action is great with every kind of kink and fetish, although the lack of updates is somewhat disappointing.
Clicking on any of the niche site logos will take you to that said site where you will see all the artistic content laid out across the screen.
Logging in to the members area of any of these sites will take you inside where you can download or stream all of the movies in one convenient place.
Content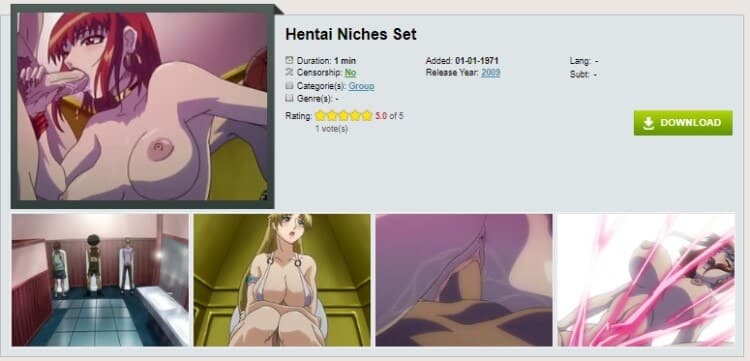 They've done a great job organizing their movies.  It's simple, crisp, and clean, and downloads stream fast every time.  I never imagined having sex with monster-like creatures before, but the larger than life breasted chicks and dicky girls are great in my books!  Here are the 6 sites and a brief description of each:
HENTAI VIDEO WORLD — This is a real paradise for those who enjoy cute looking manga characters getting ravished and fucked in every way you can think of.  The style of animation ranges from cute, innocent looking girls to group scenes involving bondage or chicks with dicks.
3D HENTAI WORLD — This is a computer-generated animation site.  The imagery is brilliant with brighter colors and even more out-of-the-world content.
HENTAI PICS WORLD — If you are a fan of original hentai manga, then the 41,400 pictures of big boobs and futanari chicks will be perfect for you.
YAOI MOVIE ARCHIVE — Featuring the most extreme hentai gay sex scenes is Yaoi.  Scenes range from romantic boy on boy scenes to forced-sex fantasies.
PLANET COMIXXX — This is the non-Japanese section with 822 English comic sets for a grand total of 34,232 pictures for download.
BEST HENTAI GAMES — This is one of the best hentai games site on the net.  Fans of video games will appreciate these modern-looking 3d games of the most extreme Japanese storylines involving fighting, costumes, or 3D simulation sex.
The scenes waste no time getting to the hardcore stuff. But they are quite short at only about 5 minutes each.  They tried to choose scenes that have a unique fetish to it, so there's no consistency in either the storylines or the sex scenes.  There are over 600+ scenes on the Hentai Niches network which should keep you busy for a while.  The scenes are mostly uncensored, and some have English subtitles which was a nice surprise.
Conclusion
There are no surprises with Hentai Niches.  The bottom line is if you like animated porn, pictures, and games from Japan, then you will like this site.  That said, they don't update as much as they used to. But the 600+ movies and 75,000 pictures (and don't forget the hentai xxx games) will satisfy you for at least a month.  $29.95 will give you full access for the month, but if you're still undecided, you can go for the $1 trial membership instead.