Introduction
Bargirl Chat is a site devoted to Filipina live cam shows with Asian camgirls looking to hook up with white boys worldwide.
I'm generalizing since not every girl on this site wants the same thing, but from what I see, Bargirl Chat lets you connect to girls in developing countries where you pay them for a private 1-on-1 webcam service on a pay-per-minute basis.
It's not the first time I've seen a site like this. Another site called Asian Bar Cams is very similar. The models aren't the same, but there is some overlap with girls working on these sites. The best part of all? Hardcore webcam shows are only $0.99/minute!
Impression
The bright blue and dark theme design emphasizes the hotness factor of the chicks. During this review, there are 142+ online girls. I didn't see any girls chatting from a bar, but I wouldn't doubt it if any of these girls also work in bars when they're not stripping and masturbating on camera.
The main categories are on the top. Click on one of these categories. Girls, Lesbians, or Couples – the model profile page will automatically update with the most popular girls of your selected category appearing on the top.
The Free Chat rooms aren't as busy as on other live cam sites either, so once you click on the 'Free Chat' link, you can have most of the girl's attention in seconds.
The Filipina Live Cam Shows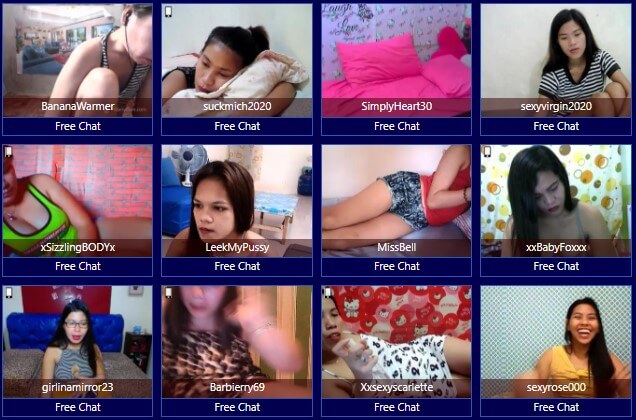 Bargirl Chat claims to have 31,120+ models registered to the site. Most of the girls appear to be from the Philippines, but there are other countries too. The good thing about these girls is that they speak excellent English.
And since they live in a different economy, they can get by with lower pay-per-minute rates. What this means for you is more time in private chat for less money. I believe every girl on the site accepts private shows for only $0.99 per minute.
There are special feature shows too which happen almost every day. VIP members get to watch these for free.
VIP Membership
There are other reasons you might consider becoming a VIP member. For example, if you spend a lot on the site, then the 10% discount you get on ALL paid shows will pay for itself. And if you want to go back and re-watch the shows that you paid for previously, then you can download these at no additional cost.
Price
Speaking of cost, as mentioned, private shows are $0.99/minute or $0.89/minute if you sign up for a VIP membership. VIP Membership is $29.95/month, giving you unlimited free messaging to the models and unlimited access to all previous feature shows.
Conclusion
Bargirl Chat is an excellent place if you don't want to travel to the Philippines to flirt with horny chicks. The Filipina live cam shows quality varies, but since the site has updated its technology, the live streaming video is smoother and more real-to-life. I almost forgot to mention:  there's even a 100% free video chat option if you create a free account. Are you interested in chatting and potentially hooking up with REAL Asian girls? Then all you got to do is click the link below.
Recommended Reading For You