Introduction
I'm not sure what the word Tousatsudo means, but when translating the Japanese spelling for it とうさつ どう Google translates it to "How about that rabbit." I'm sure that Tousatsudou is a perverted Japanese site specializing in sneak-shot photos and molestation movies.
It's a fact that Japanese schoolgirls are known to wear their skirts much higher than in the west. This site captures that with amateur videos and photos. Panty shots, toilet cameras, and molestation fantasies – this is the kind of thing offered in today's review.
Impression
When this site was first brought to my attention, I wasn't sure if I'd even review it. My first impression wasn't good. The home page design looks amateurish. But if there's one thing I've learned from Japanese paysites, they don't focus so much on making site sales. Instead, they spend time filming and adding new content to their site.
It turns out that Tousatsudou has collected over 477+ various candid cameras and amateur movies. All original and never-before-seen footage that you won't find anywhere else.
Tousatsudou Videos
In case you were wondering, all the girls in this film are aware that they're being filmed — at least, that's what the site claims. Whether or not that's true is up to interpretation. But I will say that many of the scenes, including the amateur camera footage, give the impression that it's authentic, which is probably their exact intention.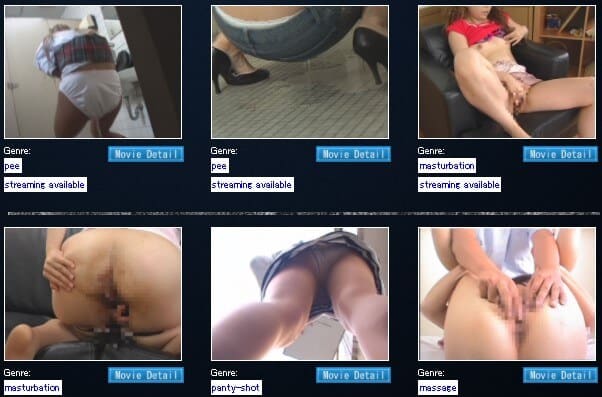 The listed categories below can be found on the left sidebar:
Clothes changing
Panty-shot
Downblouse
Masturbation
Mania
Omorashi
Obscenity doctor
Massage
Molest
Esthetique
Pee
Some scenes aren't all that special. For example, a woman trying on clothes in a department store's changing room isn't erotic in my books! And neither is a girl casually taking a piss. So much of the site's content appears to be more of a perverted fetish than hardcore sex.
There are sex scenes as well, and the massage scenes offer some fantastic female orgasms. As for the actual fucking, it's classic porn, only with the camera set up in a way that looks like the models don't know they're being filmed. Either that, or the girls are porn stars, and they don't even know it!
Movies are about 40 to 60 minutes each and come with download options to stream. There is a 3GB daily download limit, which means you'll get 2 to 3 movies at most per day.
Price
If you're on a budget, then you might not appreciate this. Your first monthly pass will set you back a whopping $50. From there, each recurring month is a fixed $45. I'm not sure why they decided to charge so high, but I assume it has something to do with the rare niche and exclusive content.
Conclusion
Tousatsudou (とうさつ どう) is one of the more unique sites we've come across in recent months. There's a great variety of content, and it's hard to find another site that compares the candid camera and real amateur sex videos.
There are a couple of flaws in the site. The first one is the below-average video quality. You could argue that it's part of the candid theme. But for $50 for the first month, it's hard to justify a monthly membership unless these porn categories are your specific fetish.
Recommended Reading For You