Introduction
Caribbeancom Premium is a unique Pay-Per-View Japanese porn site where you can sample and purchase downloadable DVDs on an individual basis.
For well-known Japanese AV actresses, you will find most of them here, but it's also a great site for the hard-to-find JAV porn titles.
All downloadable movies are 100% uncensored from Japan and purchased individually with NO monthly membership fees.
Content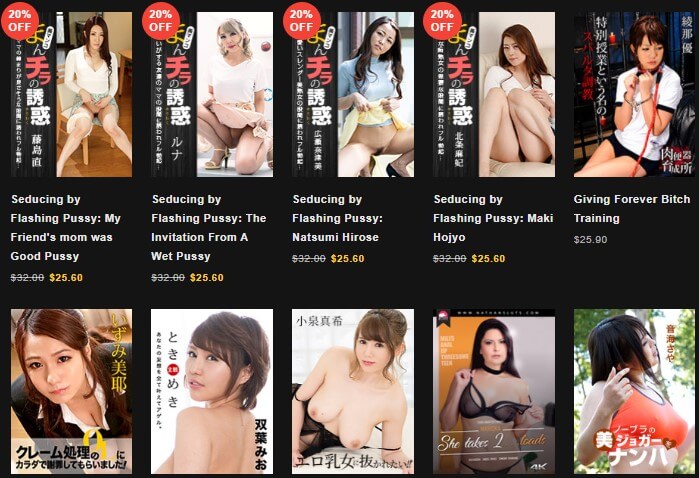 Here's how it works.  When you first visit caribbeancom premium, you'll notice that the site is in Japanese.  Just click the green "ENGLISH" button to go to the English DVD download page.  From there, you can browse DVD covers by category (Bukkake, Vibrator Attacks, Costume Play, Gang Bang, Female Orgasm, Golden Shower, Semen, Cum Swallow, etc), by movie type (Original, First Time Porn, Anime, etc), and by girl type (Teen, Big Tits, Lolita, etc).
There are literally thousands of uncut Jporn movies to choose from. Under each movie cover, you'll see "View" and "Buy."  An ingenious feature of Caribbeancom Premium is that you can watch free movie clips before you decide to purchase. This way you will always know exactly what you're getting. Price varies from $20-$30 per DVD download.  It's a bit pricey, but at least you won't have to worry about recurring payments typical of membership sites.
Conclusion
Overall, Caribbeancom Premium is a decent site with tons of unique J-porn movies in original uncut formats.  My main problem is the price. If you tend to download a lot of porn, then this site will cost you a fortune.
For the more serious Jporn enthusiast, I recommend JAV Model. It's similar in format to Caribbeancom Premium, but JAV Model uses a membership fee instead. This way you can download as many DVDs as you want without thinking about the price. That said, if you're just looking for a specific DVD, then you might find exactly what you're looking for at the link below…